If you wrap it in bacon, it's going to be good. That especially holds true with FireDisc Cookers' latest creation, bacon-wrapped chicken with fried asparagus.
Here's how they did it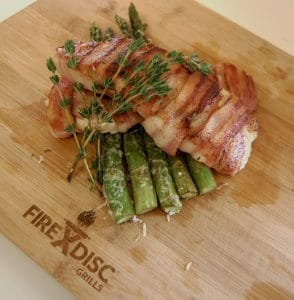 Bacon-wrapped Chicken with Fried Asparagus Ingredients:
2 chicken breasts, butterflies and cut in two
4 sprigs of thyme
8 strips of bacon
1 bunch of asparagus, stems removed
1/4 c of Parmesan cheese
Place one sprig of thyme on each chicken breast and wrap in the bacon. Set the FireDisc to medium heat and allow the FireDisc to warm for about 5 minutes. Cook the bacon wrapped chicken on the disc for 12 minutes flipping every 4 minutes or so.
Move the chicken to the outer portion of the disc and allow the bacon grease to pool in the center. Turn down the heat (low) and fry the asparagus in the bacon grease for 6 minutes or until tender. Place the fried asparagus on a paper towel-lined plate and top with the Parmesan cheese and a dash of salt.
Plate the asparagus first, then the chicken.
Happy Grilling!