Most days, we never come home with a dozen doughnuts … just not good for a family like ours to have doughnuts around. Honestly, they won't last long, hence why they never make it to our counter.
As we were working on a special project out of town, it was decided to grab a couple dozen for talent as they would be working all day with little time to break for lunch or anything else. Well, they only managed to eat one dozen … Hmmmmmm.
We are always open to fun desserts off the grill, but when the occasion presents itself, we make the most of it. Enter Dozen Doughnut Bread Pudding.
This spin on the classic bread pudding from NOLA is guaranteed to clinch the jaws with the sweetness and make you come back for seconds with the flavor!
What's in Dozen Doughnut Bread Pudding
1 dozen glazed doughnuts, cut into sixths
4 cups heavy cream
2 cups milk
6 large egg yolks
2 large whole eggs
1 can sweetened condensed milk
1 tsp. almond extract
1 cup dark chocolate chips
1 cup shredded, sweetened coconut
1/2 cup brewed espresso (strong), chilled
Finely ground espresso (optional)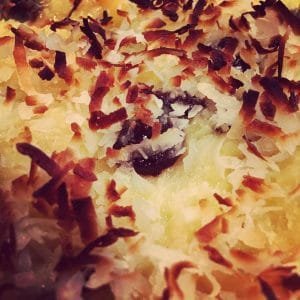 How to make Dozen Doughnut Bread Pudding
Preheat an oven to 270 degrees. Line a sheet pan with large silicone baking sheet. Spread the doughnut pieces and bake for about 30 minutes, until dry on the outside and semi firm in the center. YOU DON'T WANT TOAST! 😉
In a large bowl, whisk 2 cups of cream with milk, egg yolks, whole eggs, almond extract, half of the coconut and condensed milk. Add the doughnut pieces and chocolate chips. Let soak until the doughnuts are softened, about 1 hour; stir every 15 minutes or so.
Bring your grill to 350 degrees.
Spray light olive oil into a 9-by-13-inch baking dish. Pour the doughnut mixture into the prepared dish and cover with foil. Set the dish in a roasting pan and add enough warm water to the pan to reach halfway up the side of the baking dish. Grill the bread pudding for 40 minutes.
Remove the foil, add remaining coconut and grill for about 25 minutes longer, or until the bread pudding is set. (Give it a shake a look for a firm wobble.)
If you don't have a kitchen torch, preheat your oven broiler. Broil the bread pudding for about 3 minutes, or until top is lightly browned and coconut is dark brown. Let cool for 30 minutes.
In a medium, chilled metal bowl, whip the remaining cream to strong peaks. Fold in espresso. If it loosens too much, whip until peaky.
Serve espresso creme with the warm doughnut pudding, preferably on the side. If you want an extra kick of coffee flavor, lightly sprinkle espresso grounds on the creme.