On the Tennessee Trail, the city most famous for dry-rub ribs, Memphis, racks up an all-star lineup of outstanding barbecue joints. Ribs are definitely on the menu, but there are more goodies in store in the Bluff City.
Traditionally, the pulled pork sandwich has been the king of Memphis barbecue. Not only does pulled pork still thrive between the buns, but in Memphis it has found its way into all sorts of other dishes, from BBQ nachos to pulled pork stuffed baked potatoes to the uniquely Memphis specialty of BBQ spaghetti, essentially pulled pork and barbecue sauce on spaghetti.
Pulled pork and ribs – wet or dry – occupy the top of the barbecue food chain here, but there are myriad other options too, from lamb riblets to whole smoked Cornish game hens to BBQ bologna and the smoked hamburger. Even beef brisket, that Texas specialty, makes an appearance, though this is a dish better left to the Lone Star State. And while Texans often go sauce-less, barbecue in Memphis is all about tomato based sauce, with many eateries offering a slate of choices, and even the dry rib places serve sauce on the side.
Tennessee Trail
Central BBQ
The best all-around eatery in a city filled with great choices, Central BBQ routinely wins "Best BBQ" in Memphis from various magazine and newspaper readers' polls. The ribs, loin back cut, essentially meatier baby backs, are the gold standard and the best of the many excellent meats on the menu here, rubbed with brown sugar that forms a crunchy caramelized exterior, while they are perfectly cooked through. Central also makes excellent BBQ nachos with pulled pork, jalapeños and cheddar atop a sea of tortilla chips, fresh fried pork rinds that will convert even the most dubious eater, amazing kettle potato chips served with bleu cheese dip, and highly addictive chicken wings, smoked rather than fried, with a healthy dose of dry rub. cbqmemphis.com
Cozy Corner
A classic order-at-the counter joint beloved by locals, Cozy Corner is just a mile from downtown, but sits in a run-down strip mall. You really need to seek it out. Cozy Corner does it all, and is famous for its signature whole smoked Cornish game hen, swimming in BBQ sauce and impossibly tender. They also serve BBQ spaghetti, not always the easiest dish to find. They do very good ribs, but the one thing you should not leave Cozy Corner without trying are the fabulous rib tips. A whole rack of pork spareribs is trapezoidal, and butchers often cut down one side to make the rack symmetrical, leaving identical length "St. Louis" ribs. That thin strip removed is the rib tips, bite-sized morsels each with fat, bone and cartilage, adding taste and succulence when smoked. At Cozy Corner they are tossed in sauce, and piled high on a plate. Since you don't see rib tips on many menus, make sure you try them. Note: the slaw is mayonnaise slaw. cozycornerbbq.com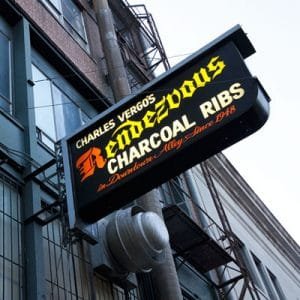 Charlie Vergo's Rendezvous
This sit down, full-service place is so famous that simply by forgoing sauce during cooking (it's on the table) it has erroneously given Memphis a reputation as a dry rib city. In fact, most Memphis ribs are doused in sauce, but not at the Rendezvous where they are not even smoked. Purists argue that this is not "barbecue" in the traditional sense, as the ribs are roasted in coal fired ovens more akin to those used for pizza making. This and the dry rub give the ribs a different flavor. This place has a loyal and fanatical following, and it's worth trying because you will either love it or leave it. While here, do not miss the unique lamb riblet appetizer, something you may never see on a menu anyplace else. hogsfly.com
The Bar-B-Q Shop
A great choice for barbecue novices, this place feels more like an Irish pub than a barbecue joint, with comfy booths, a prominent bar, friendly knowledgeable servers and a casual sit down experience. This is one of the few places where you see no evidence of the smoker, but it's there. The restaurant turns out a huge variety of options, including ribs, pork shoulder, brisket, rib tips, chicken, smoked turkey, BBQ bologna, spaghetti, and nachos, many sandwiches, lots of sides, and a wide range of desserts. The ribs are especially good, but the standout here is the BBQ spaghetti, probably the best in the city, thanks in large part to the excellent sauce, so good it is sold nationwide under the Dancing Pig label. Beware: the spicy sauce is really hot. dancingpigs.com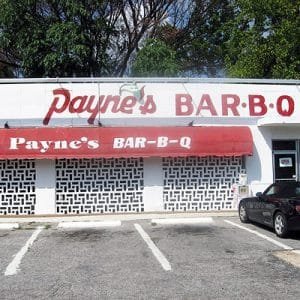 Payne's Bar-B-Q
Payne's occupies a very simple, squat, dark and smoky cinder block building. This functionality speaks to its highest purpose, smoking meat, with the fire clearly visible behind the counter where you order, and little else in the place except some worn tables and chairs. Payne's has a limited menu that includes ribs and Polish sausage, but the reason BBQ junkies come here is for the chopped pork shoulder sandwich, arguably the best in town. It's piled high on a bun with its electrifying and unique bright yellow mustard-based cole slaw. There is also a thin and spicy red sauce, and the pork, both crispy and moist, combines with these two, creating a flavor and textural explosion. southernfoodways.org
Tops Bar-B-Q
Since its beginning in 1952, Tops has grown into a local chain that is extremely popular. Unlike other regional BBQ chains such as Corky's, Rudy's or Jim 'n Nicks, Tops is very much fast food, more akin to McDonald's in feel. Tops sells fast food burgers and fries alongside its pulled pork sandwiches, which are the least expensive in the city yet often win awards. While many BBQ travelers to Memphis skip Tops, it is definitely worth trying, especially to fill in a gap, on your way to the airport or while otherwise driving past one of the 10 greater Memphis locations. Tops offers bargain priced brisket and pork shoulder sandwiches, along with platters and ribs, and even whole smoked pork shoulders and briskets for parties. topsbarbq.com
Other mentions:
Interstate Barbecue, 2265 S. Third St., Memphis. Interstate is Jim Neely's restaurant, uncle of Pat Neely of Food Network fame. The ribs are great, but start out slowly with an order of barbecue spaghetti.
Leonard's Pit Barbecue, 5465 Fox Plaza Drive, Memphis. Now on its third location and second owner, Leonard's has been around since 1922 and is said to be the originator of "the barbecue," which in the Memphis vernacular is not a party or a grill, but a pulled pork sandwich with sauce and slaw. Get a barbecue and do not skip the slaw, which has a mustard base.
Bozo's Hot Pit Bar-B-Q, 342 U.S. Highway 70, Mason. Mason is known as the original home of Gus's Fried Chicken, but it's also home to one of the area's oldest barbecue joints, Bozo's. It's not too far outside of Memphis, but it's worth the stop for the pulled pork platter and a piece of pie.
Helen's Bar B Q, 1016 North Washington Ave., Brownsville. The thing to get at Helen's is, once again, the pulled pork sandwich. But what's special here is that the eponymous Helen Turner is not just the owner, but the pit master, cooking pork shoulders over real wood coals.
Scott's-Parker's Bar-B-Que, 10880 Highway 412 West, Lexington. Scott's is genuine rural West Tennessee whole-hog pit barbecue. There's not a huge menu, but you may be able to specify what cut you'd like — if you're lucky enough to get there when it's not closed or sold out.
Peg Leg Porker, 903 Gleaves St., Nashville. I'm no expert on Nashville's barbecue joints, but those in the know suggest Peg Leg's ribs. They're made with a Memphis-style dry rub without the hassle of the tourist trap that is Rendezvous in Memphis.
Martin's Bar-B-Que, 3108 Belmont Blvd., Nashville. For simplicity, I'm listing the newest spinoff of Pat Martin's famous Nolensville shop, known for "redneck tacos": barbecue piled onto a cornbread hoe cake, topped with sauce and slaw.
Smoke Et Al, Nashville. Finally, the trip ends with a visit to Smoke Et Al, wherever the food truck is located for the day. Smoke Et Al serves a variety of styles of barbecue, including pork, beef, chicken, and even vegetables. I can vouch for the smoked veggie tacos myself. And the fried pickled okra with 'Bama white sauce is one of my favorite things to eat in all of Nashville.
— Southern Foodways Alliance, Leslie Lassiter (nashvillescene.com) & Larry Olmsted (Gannett)