Some years ago, a burger loaded with so many fixins' was born … we called it the Fat Nasty. Today we're sharing tips on how to prepare the next level of flavor with this hamburger and calling it Fat Nasty 2.0.
A good friend and chef from Louisiana was given the task of naming the Ultimate Hamburger for Grillax, and we'd try to create it. He came up with Fat Nasty, not necessarily to appease his love of burgers … ahem!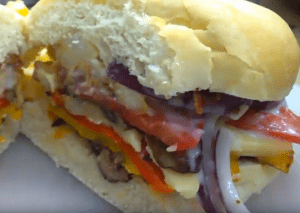 So we loaded up toasted French bread with half-pound beef patties, portabella mushrooms, tomato, red onion, Havarti cheese, french fries, country gravy and bacon.
Some called it Cardiac Arrest, but we thought it fit well with our chef's Fat Nasty.
In our newest version of the Fat Nasty, we changed up the ingredients just a tad, but kept the overstuffed, over-the-top feel for the burger.
Here's how we did it!
Grab plenty of napkins and Happy Grilling!
Fat Nasty Burger 2.0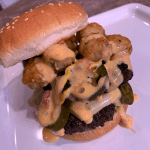 Fat Nasty 2.0
If you would like to keep up to date with my latest posts about Fire. Food. Fun. grilling, homegate sessions, gameday cocktails and more, you can follow Grillax on Facebook, Pinterest, or Instagram. You can also sign up for my email list and get the latest post delivered to your inbox, plus exclusive access to our latest recipes, reviews and contests.
Happy Grilling!