Jump on the Texas Trail of BBQ — Central Texas is known for many things. But for those of you foodies out there, this may be right up your alley. We take a look at what's known as the Texas barbecue trail. It runs through Austin, Lockhart, Luling, Driftwood, Elgin, and Taylor.
Of all the major regional styles of barbecue in America, Texas BBQ is the most clear cut and delineated, because it always starts with beef, largely in the form of brisket. Some pitmasters add prime rib or beef shoulder clod to the smoker, while beef ribs, short and long, are sometimes available. The other telltale sign that you are at a Texas BBQ joint is the prevalence of European style sausages, the lasting legacy of a big wave of German and Czech immigrants in the mid-19th century. These are typically horseshoe shaped, like a miniature kielbasa, and the spiced meat filling is loosely packed, almost crumbly.
Beyond that, pork ribs are common, and many places offer smoked turkey, ham, pork chops or chicken, but you go to Texas for the brisket and the sausages, though it's always hard to skip good ribs. Texas barbecue is not usually a sit down and order affair of combo plates and long lists of sides: you approach the pit, order meat by weight, it is hand sliced on butcher blocks, laid on butcher paper on a scale and handed to you. Sides are minimal, from a chunk of cheese to some pickles, sauce is often non-existent (and if offered, optional at the table), and the meat is almost always served with a choice of crackers or white bread. There is good barbecue across the Lone Star state, but nowhere is the concentration greater – or better – than in and around Austin, a.k.a. "The Texas Barbecue Belt."
Lockhart
An Austin BBQ road trip begins not in the state capitol, but rather in Lockhart, 32 miles south of Austin, home to a triumvirate of eateries — Kreuz Market, Smitty's and Black's — so highly regarded that the Texas State legislature recognized the town as "The Barbecue Capital of Texas."
Kreuz Market is the biggest, opened in 1900 and relocated to its enormous purpose-built structure in 1999, a cavernous temple of smoked meat. Kreuz dishes it all up, from brisket and prime rib to beef shoulder clod, turkey, ham, ribs, pork chops and the region's traditional horseshoe sausage, made in house and excellent here. Kreuz is to Texas barbecue what Walt Disney World is to theme parks, seating over 500 diners, but is still totally authentic, with over a century of tradition and all the meats hand carved from the pit. kreuzmarket.com
Smitty's dates to 1948 and occupies the space once used by Kreuz alongside the town square. It is one big room of long communal tables with the pits in back, where again the meat is hand cut and weighed to order – and the order of the day at Smitty's is brisket, the best in town, while the sausage is also excellent. Smitty's is firmly in the sauce-less camp so don't bother asking, just enjoy the smoke, dry rub, and delicious fattiness of the juicy brisket. smittysmarket.com
Open since 1932, Black's claims to be the oldest "major" barbecue restaurant in Texas owned by the same family, and whether it's true or not, it is well worth a visit. Black's is a low key place with a local feel, pictures of high school football teams on the wall. Black's does have a signature sauce, which is made by the owner's wife in small batches. But what sets Black's apart is its superlative and Flintstones-sized meaty beef ribs, a cut few barbecue places serve, even in Texas. blacksbbq.com
Luling
Just south of Lockhart, about 50 miles from Austin, Luling is best known as the home of City Market, another must-visit stop on the region's BBQ trail.
City Market is seemingly frozen in time, an old general store that happens to have some tables and a pit in the back. It has the region's most limited menu, with just the big three: brisket, ribs and sausage. Sides are also quite limited, pinto beans, potato salad, bagged chips, and slabs of cheddar-like yellow cheese. The brisket is out-of-this-world good, the reason people come from many miles to eat here, and their other claim to fame is a beloved barbecue sauce, uncommon in the region, made in house, orange colored, fruity, flavorful and thinly textured. lulingcitymarket.com
Driftwood
Next you head over to Driftwood, a suburb just 20 miles away from Austin, home to perhaps the most famous barbecue eatery in America, the Salt Lick.
The Salt Lick, a vast complex of buildings and outdoor dining spaces, has grown and sprawled on this site since it opened in 1967 on the family farm of Thurman Roberts, whose family arrived by wagon train from Mississippi in 1867. Salt Lick opened with a single circular stone fire pit in 1967. Thurman Robert's son Scott Roberts still runs the place.
The family experience of cooking over open fires on the wagon train shapes the unusual barbecue here, a hybrid of smoking and cooking directly over live fire. The Salt Lick has been named to countless "best" lists, and its beef ribs were chosen by celebrity Chef Bobby Flay as "The Best Thing I Ever Ate." Salt Lick serves hundreds of customers daily, and more than a thousand on University of Texas game days. The restaurant offers the full slate of brisket, ribs, sausage, and chicken, though the standout is the uncommon and monstrous beef ribs. The Salt Lick serves two excellent sauces and even makes its own wine on site, and if you are running out of time they have a stand in the Austin airport – you can take a whole brisket home. saltlickbbq.com
Elgin
Southside Market is famous for all beef sausage shipped nationwide and known worldwide as Elgin Hot Guts. southsidemarket.com
BBQ lovers never pass through Elgin without stopping for the famed German sausage served at this rural outpost along Highway 290 East; customers can order at the counter and sit in the no-frills diner-style digs. cuetopiatexas.com
Taylor
Taylor, a railroad town established in the late 1800s by German, Czech and Austrian immigrants who brought their culinary sausage-making expertise to the U.S. Founded in 1949, Louie Mueller Barbecue churns out thick slabs of tender brisket, arguably the best around due to it's simplicity of flavors. louiemuellerbarbecue.com
Austin
Finally, you end up at Texas' capital, and Austin has no shortage of great barbecue places — Stubb's, Franklin Barbecue, Lambert's and Sam's.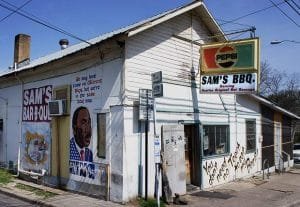 The most famous barbecue place is probably Stubb's, whose sauces are now sold in supermarket's all across the nation, but what makes Stubb's stand out is not its barbecue, which is good yet not quite great, but rather its music. Stubb's is a major Austin live music venue and gets a national touring acts and big local bands, all of which can be enjoyed with plenty of cold beer and barbecue. It is always worth checking the concert calendar at Stubb's when visiting Austin. stubbsaustin.com
The flavor of the moment, Franklin Barbecue is a trendy spot that draws a hipster crowd and, thanks to a glowing write up in a national food magazine, usually has a long line out the door. The restaurant opens only for lunch, at 11 – though customers line up much earlier. It stays open until selling out of meat, sometimes leaving a line of disappointed patrons. If you can get into Franklin without too much hassle, it's worthwhile, especially for the excellent sandwiches, but if you do not want to bother with the hassle your BBQ trip to Austin will be no less fulfilling. If you feel Franklin is a must, call and place a pick up order rather than waiting to eat in. franklinbarbecue.com
Billing itself as "fancy barbecue," Lambert's is an upscale full-service restaurant in the heart of downtown that also happens to serve some excellent barbecue. It's a top spot for intimate live music, making it a great date night choice or good for anyone who has had their temporary fill of "joints." Appetizers include crispy wild boar ribs and house-made charcuterie, while entrees range from brisket and pork ribs to cold smoked trout and Texas quail. The one notable barbecue addition here is pulled pork, rarely seen in Texas. Lambert's is proof that professional wait staff, nice cutlery, and a wine list do not preclude delicious barbecue. lambertsaustin.com
Many Austin residents, surprisingly, do not know about Sam's, as local a spot as you can find, on the East side. Its biggest claim to fame is that it was supposedly the favorite of late Austin guitar/rock genius Stevie Ray Vaughn. Sam's is a true joint, rough around the edges, worn down, and in a location you do not want to walk to at night. Sam's is small and old school, but what makes it worthy of a special detour is the house specialty of smoked mutton. (512) 478-0378
Don't forget Houston
Daniel Vaughn of TexasMonthly.com has come up with some divine places to dine in the Bayou City, check out his list of must-visit Q joints in Houston.
Corkscrew BBQ – The Buckmans made some of the best barbecue in the area from a food truck for the last four years, but they've outgrown their old location. Corkscrew BBQ has reopened in Old Town Spring where you can get some of the best barbecue in the Houston area, including their great brisket and huge spare ribs.
Gatlin's BBQ – Greg Gatlin and his family operated their popular barbecue joint in a small house on 19th. The lines were slow and the tables few. This new, larger location just outside the loop suits them well. Fans of their brisket, dirty rice, and peach cobbler should rejoice.
Killen's Barbecue – It's a haul to get down to Pearland, but this trip is worth it. Ronnie Killen does wonders on the standards like brisket, spare ribs, and a homemade pork sausage, and a few new cuts bring some barbecue excitement. Bone-in pork belly and giant beef ribs are peppery and decadent. The sides like creamed corn and desserts like the bread pudding show of Killen's chef side.
Pinkerton's Barbecue – The newest joint in The Heights serves an impressive array of meats by the pound. The beef ribs are massive, the brisket is tender, and they've got some of the best sweet pork ribs you'll find.
The Pit Room – A recent addition to Houston, this Montrose barbecue joint serves a diverse menu, and everything is homemade including three kinds of sausage. It's hard to choose between the brisket and beef ribs, so get them both, and don't miss out on the tortillas made with smoked brisket fat.
Roegels Barbecue Co. – Russell and Misty Roegels opened a Baker's Ribs location here twenty years back, but recently hung out their own shingle after parting from the chain. The chicken is stellar, as are the brisket and ribs, and it's hard to beat their daily specials. Get the meat, get some sides, but do not forget about the homemade bourbon banana pudding.
Tejas Chocolate Craftory – Yes, they make chocolate here, from scratch, but there's also a huge menu of barbecue excellence. Start with the pork belly paired with the mole sauce. The lean brisket is as juicy as the fatty brisket at most joints, and we haven't even gotten to the pastrami beef ribs.
— Southern Foodways Alliance, Texas Monthly, Texas Tourism & Larry Olmsted contributed to this post.
Save
Save