Kentuckians have barbecued on a grand scale since our land became a state in 1792, and that tradition continues today with such massive events as the annual political picnic at Fancy Farm (where in 2011 the team at St. Jerome Catholic Church cooked 19,000 pounds of pork and mutton), and at Owensboro'sInternational Bar-B-Q Festival, a charity event where cooks stir 75-gallon cauldrons of burgoo and tend open pits groaning with mutton quarters and whole chickens.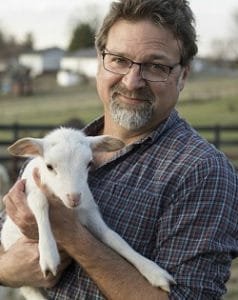 What strikes me most about Kentucky Trail barbecue is the variety of meats that individual joints smoke and the localized flavors of its micro-regions. In the western part of our 120-countied state, the preferred barbecue is pulled or chopped pork from whole shoulders or Boston butts, traditionally cooked on masonry pits for 12 to 30 hours over hickory coals.
Additionally, many western counties put cured hams (city hams) and precooked turkey breasts on the pits and then slice the smoke-drenched meats thinly for sandwiches. Sauce styles vary county by county. Bordering the Mississippi River, Hickman Co. restaurants serve meats without sauce and offer a vinegar and cayenne pepper concoction in plastic squirt bottles at the table.
Some McCracken Co. sauces taste strongly of vinegar and chili powder. Union and Henderson Co. favor a savory Worcestershire based dip, while over in Christian Co. to the east the sauces turn again to vinegar and cayenne.
Kentucky Trail Mutton
Mutton is our most distinctive claim to barbecue uniqueness, although only 18 out of 160 barbecue places I visited between 2009 and 2012 serve it. The "mutton tree," as I'll call it, is concentrated in western Kentucky, with Christian Co. and Hopkins Co. forming the trunk, branching out into Union, Henderson, and Daviess counties for the upper foliage.
Owensboro is mutton central, with four restaurants serving it, including the famous Moonlite Bar-B-Q Inn, which, according to manager Pat Bosley, "semi-trucks it in—5,000 to 6,000 pounds—two times per week." Outside this area, you can find mutton in Lexington at J.J. McBrewster's and in Louisville at Ole Hickory Pit (the owners at both these places have roots in western Kentucky). Mutton is usually basted while cooking over hickory coals and served with a savory Worcestershire sauce-based dip, a thin black potion that also contains vinegar and spices like black pepper and allspice.
A third "major" Kentucky tradition is the "Monroe Co. style" dominating barbecue menus in 5 south-central counties: Monroe, Barren, Cumberland, Allen, and Warren. Locals refer to it as "shoulder." Boston Butts are frozen and cut into thin slices, bone in, with a meat saw. Pitmasters burn down hickory slabs and shovel the coals underneath iron grates that hold dozens of slices of shoulder (and chickens and pork tenderloins), flipping and sopping them with a "dip" of vinegar, butter, lard, cayenne and black pepper.
If you like spiciness, then order a shoulder plate "dipped"; milder palates might prefer "sprinkled"; idiots like me can ask for "suicide" and get a healthy ladle of sauce skimmed off the top of the dip pot, where the fat and spices mingle. Popular side dishes in this region include vinegar slaw and eggs pickled in this peppery vinegar dip.
Beyond these three major styles—long-smoked pulled pork, mutton, and grilled sliced shoulder—you'll find pockets of micro-regional flavors in the Commonwealth. For instance, barbecue on toast is preferred in counties McCracken, Livingston, Lyon, and Caldwell. Hickory smoked pork or mutton is pulled or chopped and served between slices of toasted bread (raw onions and dill pickles optional).
A popular item in Union and Henderson counties is "chipped" mutton: exterior bark from mutton quarters and pork shoulders is chopped and mixed with a thin tangy sauce, which adds moisture back into the fire-dried meats. Because bark has so much smokiness, "chip" packs a wallop of flavor and is best eaten as a sandwich.
Burgoo, a stew made from many meats (especially mutton) and vegetables, is found primarily in a funky triangle that runs from Owensboro (the burgoo capital) down to Madisonville, south to Hopkinsville, south to Guthrie, and back to Owensboro. You can find burgoo outside this region, but it's rare. Eighteen barbecue places—roughly 10% of the 160 I visited—serve burgoo regularly.
Outside the barbecue hotbed of western Kentucky, you'll find a hodgepodge of local preferences. A few Louisville barbecue places slather on a tomato-based sauce, and this trend continues in the northern and eastern counties, like in Appalachian Floyd Co., where local preference is for sauced barbecue. And in the same counties serving "Monroe Co. style" grilled sliced shoulder, you'll find a menu item called "shredded." Lovers of naked, smoked meats—beware. "Shredded" means pulled pork swimming in a tomato-based sauce.
Louisville and Lexington are melting pots of barbecue, serving beef brisket, Memphis-style dry-rubbed ribs, and western Kentucky pork and mutton. Indeed, two of the oldest restaurants, Ole Hickory Pit in Louisville and Billy's Bar-B-Q in Lexington, and newer places like J.J. McBrewster's and Sarah's Corner Cafe in Lexington, bill themselves as "West Kentucky-style" establishments. Two other urban upstarts, Hammerheads and Smoketown USA—both located in the appropriately-named Smoketown area of old Louisville—blew my barbecued mind with smoked lamb ribs, smoked duck, smoked pork belly, and meaty beef ribs. With so many new places opening up in both cities in the past few years, I'd say the future looks promising for barbecue in the Bluegrass.
— Dr. Wes Berry, southernfoodways.org