Urban barbecues have picked up steam in the state and may be more central to the history of Georgia Trail barbecue than the hometown places.
Jim Stacy of Atlanta tells of his favorite joints to fill up on the goods.
Community Q BBQ: "Great brisket sandwiches and some of the best mac and cheese I've ever had. It's good to see some fine dining guys cooking barbecue." (1361 Clairmont Road, Decatur, 404-633-2080)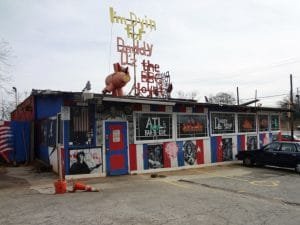 Daddy D'z BBQ Joynt: "My favorite ribs in town. Hands down, my go-to place when my family is eating barbecue." (264 Memorial Drive S.E., Atlanta, 404-222-0206)
Fresh Air Bar-B-Que: "A perennial favorite for the family. You can't manufacture the atmosphere. It's been open since 1929. That's as old-school as it gets." (1164 Highway 42 S., Jackson, 770-775-3182)
Heirloom Market BBQ: "I love Korean barbecue. I love Texas barbecue. The two of them together is a great asset to the city. Hands down, great kimchi slaw!" (2243 Akers Mill Road S.E., Atlanta, 770-612-2502)
Ms. Betty's House of Ribs: "A quintessential rib shack. It's in my neighborhood. I love eating as much as just hanging out and talking to the staff." (1281 Bouldercrest Drive, Atlanta, 404-243-8484)
The Pink Pig: A native of Cherry Log, Bud Holloway grew up in the timber business. He started working in a local sawmill as a young boy. Later, he went into the military. When he returned home he decided to become a truck driver so he could see the country. But when Bud started a family, he retuned to his roots.
Patak Meat Products: "Anthony Patak is the king of Atlanta sausage for sure. He has, hands down, my favorite frankfurters and wieners anywhere." (4107 Ewing Road, Austell, 770-941-7993)
Pine Street Market: "Near and dear to my heart. I grew up in a butcher shop. Seeing a guy my age able to make a living as a butcher and bacon maker is a precious thing." (4A Pine St., Avondale Estates, 404-296-9672)
Riverview Farms: "Great organic, free-range pork grown by a great family. Great organic produce coming out of there as well." (954 White Graves Road N.E., Ranger, 678-910-2831)
The Kosher Gourmet: "You actually get homemade pastrami and corned beef in a kosher deli. Can't really beat that." (2153 Briarcliff Road N.E., Atlanta, 404-636-1114)
— Southern Foodways Alliance, Jim Stacy & Rodney Ho, Atlanta-Journal Constitution