The tastes of spring and summer could arguably be of veggies and herbs fresh from the garden. Full of nutrient-rich goodness, fresh vegetables can be an excellent addition to any diet. Grilling them just makes them that much better.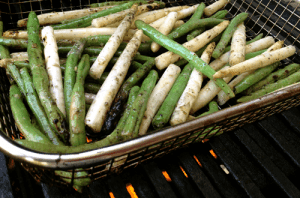 As a complimentary side to any rich meat — beef or pork — whole green beans combined with white asparagus is sure to push your next grill session to the next level. Your guests will be highly impressed with your creation, and we can show you how.
Grilled Green Beans and White Asparagus
1/4 cup olive oil
2 to 3 cloves of garlic, crushed or minced to a paste
1 to 2 teaspoons red pepper flakes
1/2 pound green beans, stem ends picked
1/2 pound white asparagus, butts removed
1 block parmesan cheese
Salt to taste
Light the grill and bring temperature to high heat.
Combine olive oil, garlic and pepper in a bowl. Swirl the oil around with your fingers to distribute the ingredients. Add the beans and asparagus and toss by hand until well coated. Put them in a hot grill basket and cook until tender and colorful (seared), which should be about 10 minutes. Be sure to toss the veggies while they cook, being careful not to burn the ones on the bottom.
Remove to a serving dish, season with salt and freshly grated parmesan cheese.
Related articles across the web