The universal standard in the Grillax Test Kitchen is … drumroll please … the ThermoWorks Thermapen.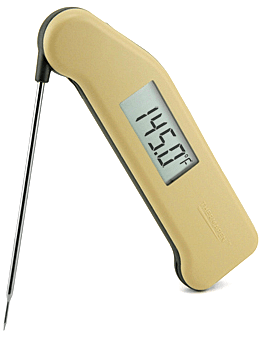 The Thermapen has been designed to give super-fast temperature readings, so we were eager to test it out. At Grillax, one of our tried and true recipes is smoked whole chicken. We love to give it a quick sear on both sides, letting the skin get nice a crispy, and then let it smoke for several hours.
We're always asking ourselves, however, "did we cook them long enough?" (We all know how embarrassing it is to cut open your chicken in front of guests to find the middle still pink and cool.)
We no longer have to guess.
MK4
The Thermapen told us immediately when our chicken was at its peak safety temperature of 165 degrees; the temperature recommended by the food safety department of the federal government in order to prevent food-borne illnesses.
It also prevented us from over-cooking the chicken, keeping it as juicy as possible.
On another note, the fact that it's "splash-proof" is a major plus. This enabled us to wipe and disinfect the Thermapen without worrying we'd damage it. (Now if you guys could make a dishwasher-safe version, that'd be even better!)
Five out of five stars to the ThermoWorks Thermapen product… we can't wait to get this on video and try it on our London broil next.
Save
Save
Save