The folks at Crowd Cow asked our senior staffers to give a flight of select beef samples a try on the grill, and we were happy to oblige.
The concept of the company and it's select beef service is unique, and impressive.
Crowd Cow lets users buy a cow with friends. All the information about the cow is given up front — the breed, the style of beef and where it was raised, a small, independent ranch in the United States. Users pick the exact cuts wanted and is delivered via express shipping.
Talk about a new way to become a "steak" holder.
Inside the box, which is not a subscription-based service, but a unique, choice-driven service, meaning you pick what you want from a certain ranch or cuts of beef, was four sets of separate ranch ground beef.
Select ground beef was sent from Wolfe Brothers Farms, Long Story Farms, Burkes Garden Farm, and Gypsum Valley Wagyu Cattle Company.
The box arrived with one-pound, flash-frozen ground beef packages from the respective farms. There was not thawing and it arrived quickly after email notification of our shipment.
Despite the moderate cost, the quality of the beef (and amazing flavor) is extremely high, so the extra cost, as compared to a local grocer, may very well be worth it for more grillmasters.
Crowd Cow Select Beef Taste Test
On tap: Wolfe Brothers Farm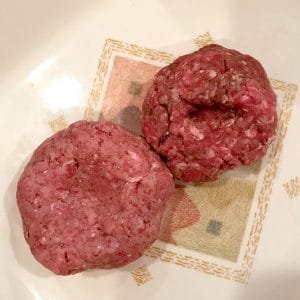 With our first batch of select beef coming from Wolfe Brothers Farm, we opted to make sliders so several people could give the beef a try. We also threw in some store-bought 80/20 ground beef, just to keep a level playing field. We didn't tell the guests which sliders were select or store bought.
The reactions were overwhelming.
Before we let loose with the Wolfe Brothers Farm Sliders recipe, let's look at the actual brothers who make up this select beef farm.
Kris and Tony Wolfe are the two brothers behind Wolfe Brothers Farms, a grass-fed, grain-finished cattle farm on the border of Pennsylvania and New York. The pasture-based farming practice is built on a core philosophy:
We simply say, 'Do unto others as you'd have them do to you.' It's exactly the same with dirt and cows. We are blessed as we nurture and care for the land and animals that we are responsible for here on this Earth." – Kris Wolfe
Quality Cow = Select Beef
The cows thrive on the open pastures of hay, sorghum, and radishes. They're finished on a healthy mix of grasses and grains, and produce delicious meat as a result. Kris and Tony believe in the idea of a blended feed, hand-mixing the cattle's lunch and dinner every day to make sure each animal always gets a "complete bite" full of nutrients.
"Our beef has a really unique, wonderful taste," Kris explains. "With some grain and lots of forages, including ancient plants like millet, you get marbling and deep, complex flavor that's second to none."
We have three other select farms to give a go, so check out those recipes and reviews.
Want more information about how Crowd Cow works? Check out their FAQ page.
Wolfe Brothers Farm Select Beef Sliders
Select Beef Sliders