How does one make the ultimate Easter feast? Enter Caribbean Jerk Cottontail and grill it.
Some say it's the chase of the dogs. Some say it's like a game of chess. No matter how one describes the thrill of rabbit hunting, there is a unanimous consensus that these critters are tasty off the grill.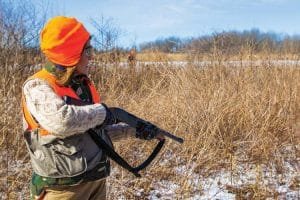 The sport of rabbit hunting has been around for centuries, as man has chased the small game animals through swamps, thickets and open fields for a chance to put meat on the table and feed families.
Rabbit contains a high proportion of protein and a low-fat ratio compared to other types of meat. It's a perfect choice for overweight individuals to use in diets or lifestyle changes.
Fried, braised, stewed, pressure-cooked … these are the popular ways among sportsmen to prepare rabbit after the hunt. In Grillax Nation, of course, we prefer the grill as our cooking tool.
In the Southeastern region of the United States, the cottontail reigns supreme in numbers, but not in size. The largest of the Southeastern U.S. region is the swamp rabbit, or cane-cutter. The cottontail ranges from three to five pounds, while the cane-cutter can get as large as 10 pounds.
Food safety
When preparing rabbit, the animals should be skinned and cleaned thoroughly, and placed on ice until they are to be cooked. When cooking, it's a good rule of thumb to make sure the internal temperature of the rabbit reaches 160 degrees Fahrenheit. Break out your Thermoworks Thermapen MK4 to give you an instant temperature.
Consuming under-cooked rabbit could make one sick. Tularemia, or "rabbit fever," is a disease affecting cottontails that, at times, decimates local high populations of rabbit. Humans are susceptible to tularemia and at present there are no vaccines to prevent the disease, but tularemia responds quickly to antibiotics.
Caribbean Jerk Cottontail
2 tablespoons dark brown sugar
2 tablespoons Myer's dark rum
1 tablespoon apple cider vinegar
1 tablespoon olive oil
1 teaspoon ground allspice
1 teaspoon sea salt
1 teaspoon thyme
1 teaspoon garlic paste
1/2 teaspoon crushed red pepper
1 whole Cottontail rabbit, skinned and cleaned
For the marinade, mix sugar, rum, vinegar, oil, allspice, sea salt, thyme, garlic powder and crushed red pepper in small bowl.
Place rabbit and marinade in large resealable plastic bag and refrigerate for one hour.
Preheat grill to medium-high heat for indirect grilling. Sear the rabbit over the coals for three minutes per side, then move to cool side of grill and cook indirectly.
Grill rabbit indirectly for 25 to 30 minutes, or until the internal temperature is 160 degrees, turning once.
Serve with grilled pineapple slices.
Related