For the members of Grillax Nation who like to throw a spicy curve ball to masses, it's hard to deny the sweet heat of a Caribbean jerk marinade. No matter what is being grilled — chicken, beef, pork, seafood — this tropical marinade is a staple among serious grillers.
Take a gander at the recipe prepared by our ProStaff in the Grillax Test Kitchen. If it's something you like, let us know about it.
Happy grilling.
Jerk Marinade
Caribbean marinades substantially reduce the risk of harmful carcinogens when grilling beef.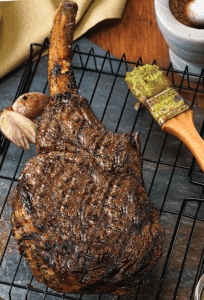 2 limes, zested and juiced
2 habanero peppers, stemmed
2 tablespoons brown sugar
3 tablespoons vegetable oil
1 tablespoon minced ginger
1 teaspoon ground allspice
2 teaspoons chopped fresh thyme
2 green onions, sliced
2 cloves peeled garlic
1/4 teaspoon kosher salt
1/2 teaspoon fresh ground black pepper
Add all ingredients in a food processor or blender and purée.
Place steak in a large plastic bag and add the marinade.
Squeeze the bag and remove the air and seal the bag. Be sure the marinade coats the steak thoroughly.
Refrigerate and marinate the steak 2 to 4 hours.
Before grilling, remove from refrigerator and let meat come to room temperature.
More Grillax