Have you ever heard of Grilled Tomato Pie? Well, just to show there really isn't anything you can't grill, we've put a nice touch on an old Summer favorite.
Grilled Tomato Pie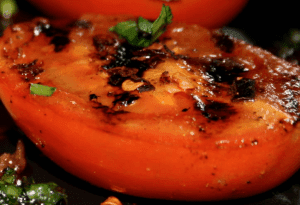 Fresh Veggies and your Grill … what's better?
4 large tomatoes, peeled and sliced 1/2″ thick
1 cup chopped green onions
1 pound crumbled bacon
1 teaspoon Cavender's Greek seasoning
1/2 teaspoon fresh basil
Dash salt, pepper
Olive oil
1 10-inch pie shell (pre-baked 8 minutes)
1 cup grated Parmesan cheese
1 cup grated Pepper Jack cheese
1/2 cup sour cream
1/2 cup plain yogurt
1 teaspoon lemon juice
Jalapeño slices
Heat grill to medium high, around 350 degrees.
Drizzle olive oil on tomatoes, add basil and Greek seasoning. Place on rack directly over heat for 2 minutes per side.
Layer the tomato slices, onion and bacon in the pie crust.
Combine the cheese, sour cream and yogurt.
Add lemon juice. Stir.
Spread on top of tomatoes, onion and bacon.
Add jalapeño slices.
Place pie pan on grill and cook 30 minutes, or until top is browned.
Happy Grilling!