When the temperatures rise down South and hover in the upper 80s for weeks, blooming blackberries are quite abundant. These tart, yet sweet little morsels can be found all over the United States, and are abundant in the Midwest, Southeast and Eastern states. States with a more temperate climate yield the most, and largest berries, of all varieties.
In the Deep South, blackberries can be found in most wooded areas and along roadsides. The largest and most plentiful berries will likely be found in shaded areas where the berries won't burn in the sun. It's not uncommon to gather up to five gallons of berries in one day in the woodlands.
And, oh, the glorious treats one can make with fresh blackberries. Cobblers, muffins, cakes, scones, cookies, jellies … all the sweet stuff.
Imagine that natural sweetness combined with your next grill session … with blackberry pork chops.
Blackberry Pork Chops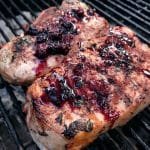 Blackberry Pork Chops
Blackberries, though tart, don't need much in the way of sweetener, such as local honey, but this simple compote will transform your next grill session into greatness.
Balsamic Blackberry Compote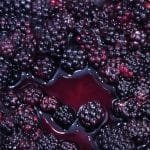 Balsamic Blackberry Compote