As a young man growing up in South Louisiana, I was introduced to one of the most decadent desserts ever created by human hands. It's sweet, rich and flavorful, and is traditionally cooked on a stove top — Bananas Foster.
Not today! Grillax.com is going to create Bananas Foster off the grill — a FireDisc Cooker.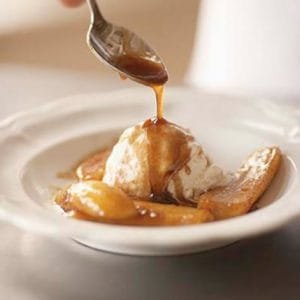 When we decided to give this tasty dessert a go on the FireDisc, we were admittedly skeptical. That quickly went away as soon as the half of stick of butter was tossed into the disc, and then the rest of the ingredients. The aroma of all the ingredients was outstanding, and though this is a quick dish to create, anyone in nose-shot of the FireDisc knew something great was going down.
Here's what you've got to do:
Bananas Foster
1/4 cup (1/2 stick) butter
1 cup brown sugar
1/2 teaspoon cinnamon
1/4 cup banana liqueur
4 firm bananas, cut in half
lengthwise, then halved
1/4 cup dark rum
4 scoops vanilla ice cream
Combine the butter, sugar, and cinnamon in the FireDisc. Set the disc over low heat and cook, stirring, until the sugar dissolves. Stir in the banana liqueur, then place the bananas in the pan. When the banana sections soften and begin to brown, carefully add the rum. Continue to cook the sauce until the rum is hot, then tip the pan slightly to ignite the rum. When the flames subside, lift the bananas out of the FireDisc and place four pieces over each portion of ice cream. Generously spoon warm sauce over the top of the ice cream and serve immediately.
Aiyeeee! It's so good!
Happy Grilling!
History of the dessert
Created at Brennan's restaurant in New Orleans to honor a local business man, Richard Foster, this rum-laden, buttery creation of seared bananas flambéed in a dark rum sauce has become a dessert classic all over the country.