Big Bad Bacon, which hails from local Mississippi restaurant, Big Bad Breakfast, is something of a phenomenon.
Whether it's the smokehouse-cured Tabasco/brown sugar bacon or the simple smokehouse-cured bacon, people come from miles outside of Oxford, Mississippi just to give the breakfast joint, Big Bad Breakfast, a taste … and the bacon.
A typical morning meal at this popular eatery is the breakfast crumble — a base of creamy grits topped with crumbled house-made buttermilk biscuits, generous dollops of tomato gravy and topped with crumbled bacon, poached eggs and green onions. So it's easy to see over-the-top menu items, as well as ingredients, is an understatement at Big Bad Breakfast.
As a part of the experience, visitors can actually buy the bacon used in the kitchen for many of the restaurant's menu items. For $11, you can bring home one pound of their smokehouse-cured bacon and add them to your next grill session. Before we jump into our Big Bad Bacon Wrapped Chicken Breasts, let's look a little deeper into the tasty pork.
What makes Big Bad Bacon
All bacon begins with curing a fatty, meaty cut from the underside of the pig, known as pork belly. After curing comes thermal processing, a process in which the cured bellies are partially cooked to an internal temperature of up to 130 degrees. This is also when bacon is smoked before being sliced and packaged. Experts warn not to over smoke or dry the bacon, the moisture in the meat is what carries the salty-sweet flavors of the cure to the bacon.
Cured Vs. 'Uncured' Bacon
Cured meats have developed something of a bad name, thanks to studies that have found correlations between nitrites and cancer in test animals. While there's plenty of debate surrounding the validity of those findings, there's a growing market of "uncured" bacon available to those looking to eliminate nitrites and nitrates from their diet. Notably, virtually every uncured supermarket brand of bacon contains naturally occurring nitrites in the form of celery powder, sea salt, and other organic compounds.
Find out more about curing regulations from the USDA, with an in-depth look at bacon, from processing to curing to cooking.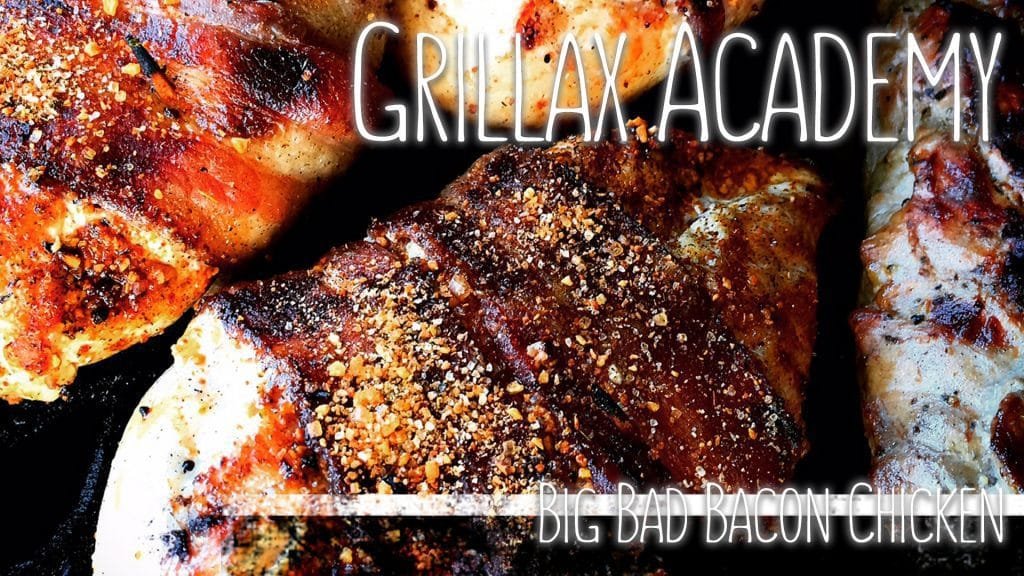 Big Bad Bacon Wrapped Chicken Breasts with Citrus Rub
Grillax jumps into the bacon with the ever-popular Big Bad Breakfast (Oxford, Mississippi) bacon for a grilled chicken recipe that is sure to impress your guests at your next grill session.
What's In It?
6

skinless chicken breasts

6

strips

Big Bad Breakfast Bacon (cured)

1-2

Tbsp

citrus rub
How to Make It
Wrap chicken breasts with bacon and secure with toothpick.

Add citrus rub to both sides of chicken breasts.

Place chicken directly over coals to sear. Grill should be at medium-high heat.

Add more rub if you like it tangy.

Use a Thermoworks ThermoPop to check the temperature of the chicken breasts. Once the internal temperature reaches 150 degrees Fahrenheit, remove from grill.

The Big Bad Bacon Wrapped Chicken Breasts with Citrus Rub is a great summer dish, and goes great with cucumber salad and home fries.