If Grillax were to put on a carnival, it wouldn't be complete without extreme rides, fun games and great food, including funnel cakes.
Funnel cake on a  grill? Why, yes, if it's a FireDisc Cooker.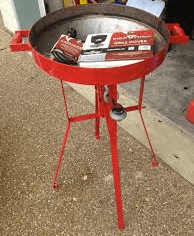 The makers of FireDisc Cookers out of Katy, Texas have created one great tool for on-the-go grillers, from tailgates, beach parties and picnics in the park. Not only can one create fast and tasty burgers and dogs on the FireDisc, but can also think outside the box and have some fun where funnel cakes fit the bill.
What's a FireDisc
The FireDisc 22 has  deep, 22-inch disc that is useful for frying lots of goodies, including our favorite fair food. And setup is fast and easy. Insert one frame into the other, attach the mini propane bottle and it's ready to go.
With a couple cups of vegetable oil, batter and powdered sugar, anyone who brings a FireDisc to their next outing will get lots of smiles and return customers.
And any grill that can create a fun dessert like a funnel cake is a necessary tool to have in GrillaxNation. Who's got the milk?
Funnel Cakes
2 cups milk
1 egg, beaten
1 teaspoon vanilla
2 cups all-purpose flour
1 teaspoon salt
1 teaspoon baking soda
1 tablespoon sugar
1/2 stick (4 tablespoons) melted butter
Powdered sugar, for topping
Vegetable oil for frying
Combine milk, egg, vanilla in a large bowl.
In a separate bowl, combine flour, salt, baking soda, and sugar and gradually add to wet ingredients.
Beat with a mixer until a smooth batter forms.
Fold in melted butter.
Pour batter into a funnel or squeeze bottle while using your index finger to stop the flow of the batter.
Add oil to disc and bring to 350 degrees.
Bring the squeeze bottle over the hot oil in the FireDisc and squeeze to start a stream of batter while moving the funnel in a circular motion to create spiral-like shapes.
Fry for 2 to 3 minutes until golden brown and slightly puffed.
Sprinkle with powdered sugar. Serve immediately.