Piña Colada Jello Shots are your tickets to turn traditional tasty summer cocktails into fun shots, perfect for any beach vacation.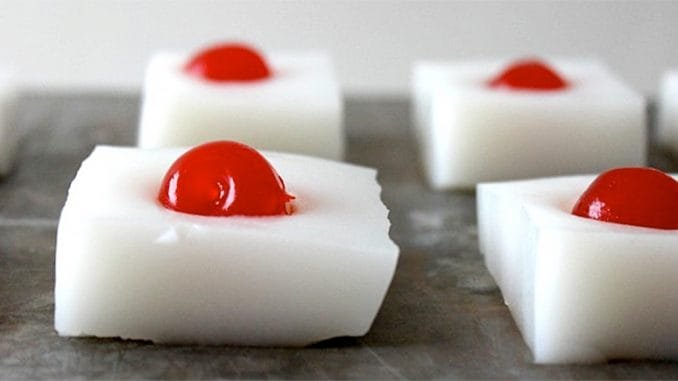 1/4 cup Sugar
2 tbsp Coco real cream of coconut
1/4 cup Pineapple juice
1 tbsp Gelatin, unflavored powder
15 Maraschino cherries
1/4 cup Rum or coconut rum, white
3/4 cup Water
In a small mixing bowl, sprinkle the gelatin powder over ¼ cup water, and allow the powder to soak in for 2 minutes.
While whisking, pour the boiling water into the gelatin and stir until the gelatin is dissolved. Add the sugar, and whisk until dissolved.
Add the pineapple juice, cream of coconut, and rum. Whisk to combine.
Pour into a 6-inch by 9-inch dish (or clear plastic cups or mini jello molds).
Refrigerate for 1 hour until jello had thickened.
Place cherries evenly in 3 lines in the jello. Refrigerate until completely set, at least 4 hours to overnight.
Dip the bottom of the dish (or mold) into warm water for 10 to 15 seconds.
Run a sharp knife through the jello, parallel to the cherry lines, to create 3 strips of jello.
Cut each strip into even squares. (If you have fondant cutters or any other mini shape cutter, you could use those instead of cutting squares.)
Use a small offset spatula to lift the jello out of the pan.
Refrigerate until ready to serve.