The purple rain cocktail is like a vodka lemonade, but with a mix of blue curacao and grenadine for that poppin' purple color.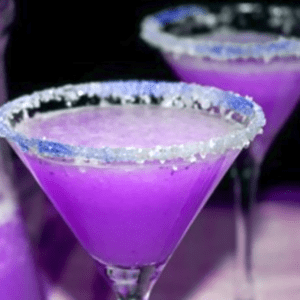 Purple Rain
1 1/2 ounces Vodka
3 ounces Lemonade
1/2 ounce Blue Curacao
1/4 ounce Grenadine
Rim: Purple sugar
Garnish: Lemon slice
Bartender Time
1. Rim the edge of your glass with a lemon wedge and purple sugar (Sugar + Blue Curacao + Grenadine)
2. In a shaking glass with ice, combine vodka, lemonade, blue curacao, and grenadine. Shake well.
3. Strain mix into rimmed glass over ice and garnish with a lemon slice.
More cocktails