The SBQue is a combination of all of my favorite things in one burger: BbQ, Bacon, Beer & Cheese. It's a flavor overload that will shake your senses.
It starts with a 50/50 Beef/Bacon blend seasoned with my OG dry rub covered in melted Smoked Cheddar Cheese. Then I top that with Chopped Brisket that I've bathed in my KC BbQ sauce. For the finishing move, Beer Cheese sauce.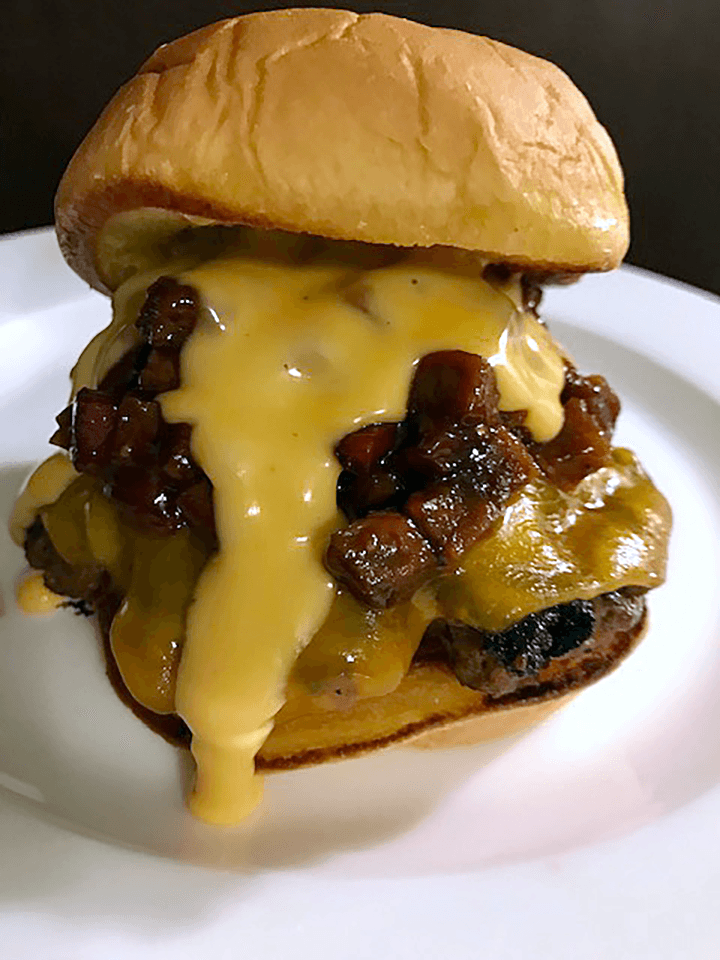 Constructing the SBQue Burger
Beer cheese sauce
12-16 ounces beer
1 pound shredded cheddar
1/2 pound cream cheese
1 cup of water
Pour the beer into a medium sauce pan and place over medium heat. Bring to a simmer. Cut the cream cheese into cubes and place in the pan. Add the shredded cheese. Whisk until both cheeses have melted and sauce is smooth. Add water until desired consistency. It will thicken as it cools.
SBQue Burger
1/2 pound ground beef (90 percent lean)
1/2 pound bacon, ground
BBQ rub (preferred brand)
Chopped Brisket (about 2 ounces per burger)
BbQ sauce (preferred brand)
4 slices Smoked Cheddar Cheese
4 Martin's Potato Rolls (or preferred brand)
Divide the meat into 4 equal portions (about a 1/4 pound each). Form each portion loosely into a 3/4-inch thick burger and make a deep depression in the center with your thumb. Cook the burgers using your desired method after seasoning with the BbQ rub. *Due to the raw bacon, cook the burgers all the way through.
Simmer the Brisket in BbQ sauce until warm. I use about a 1/4 cup of sauce per 2oz of brisket. Melt the cheese on the burgers. Top with brisket. Finish with about 2oz of Beer Cheese sauce per burger.
Enjoy!