When thinking of short ribs, some think of the scraps from the more sought-after pieces of beef. That couldn't be farther from the truth, especially when it comes to flavor and bragging rights at your tailgate with GrillaxNation.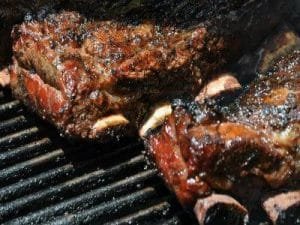 Short ribs are more marbled than rib-eyes, beefier than strip steaks, more flavorful than the succulent tenderloins and just simply better than a skirt steak — it's just beefy goodness for the grill.
The meat on grilled short ribs is arguably so tender that it falls off the bone when prepared correctly. Flanken-beef short ribs are cut crosswise from the sixth-eighth rib on the rack and are very meaty.
The key to successful short ribs are 1) marinade, 2) cook temp / time and 3) the sauce. A simple soy sauce and crushed garlic marinade will do. Slow and low is the best method for short ribs, so make sure your grill is around 130 degrees and work with indirect placement. Finally, use a thick, hearty brown-sugar barbecue sauce to wow your guests at the tailgate.
Here is a simple method of braising on a Weber kettle grill, without the need of special cookware, presented by Ballistic BBQ.
Gameday Short Ribs
These short ribs will make you the toast of the tailgate once the aroma hits the stands!
12-18 short ribs
Kosher salt
Soy sauce
Garlic (crushed)
Barbecue sauce
Season your short ribs liberally with kosher salt at least an hour and marinade with soy sauce and crushed garlic before cooking them.
Build a hot fire in your grill.
Spread the coals out over half your grill so that you can cook over both direct and indirect heat.
Sear the short ribs (300 degrees or hotter) on all sides over direct heat.
Move the ribs to the cool side of the grill and cover for about an hour or 1.5 hours and close vents to maintain 225 degrees.
Check your fire in case you need to add more coals to keep a constant temp of 225 degrees.
Baste with barbecue sauce during the last half hour.
These should cook at least 3 hours on the grill, but could go more, depending on the ribs. You don't want tough meat, so finger and fork test a rib near the end.
Happy Grilling.