Have you ever wondered exactly how to grill jerk chicken?
Malcom Reed is back, and just in time for your tailgate this weekend! Here is his take on jerk chicken. Malcom marinates his chicken in a jerk chicken marinade overnight, then grills the chicken on a Weber kettle grill with dual-zone cooking for searing / slow cooking the bird.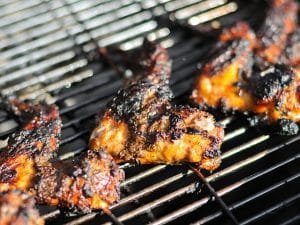 He tops is off with a glaze made from a 'secret' recipe. But he's sharing with you … SCORE!
How to grill Jerk Chicken
When preparing jerk chicken, it's all about the marinade.
3-4 green onions (diced)
1-2 scotch bonnet pepper (depending on how hot you like it)
¼ cup fresh lime juice (about 3 limes)
2 Tbsp soy sauce
3 Tbsp olive oil
2 Tbsp salt
1 Tbsp brown sugar
2 tsp cracked black pepper
1 Heaping tablespoon jerk seasoning
Place the cut-up chicken in a gallon-size storage bag and pour the marinade over the chicken.
Remove the air, mix the bag around to make sure all the pieces are covered.
Place it in a shallow dish and refrigerate overnight (or for at least 4 hours). Reed also likes to mix the bag around every couple of hours to make sure it's all getting marinated evenly.
For the glaze, here's what you'll need:
3-4 scallions sliced thin
3 cloves of garlic chopped
1 scotch bonnet pepper finely chopped – once again I stress safety with these peppers
1T fresh thyme minced
1T Jamaican Jerk seasoning
2 limes juiced
½ cup ketchup
½ cup pineapple juice
Place all ingredients in a food processor and pulse it a few times … Reed says, the chunkier the better.
*Malcom Reed has a blog, y'all! Go visit http://howtobbqright.com/
Brats staples among tailgaters on Gameday