October marks the opening of deer season in the Southeast, and if you're looking for a healthy way to use up remaining venison from last year to make room for fresh, these Asian inspired, grilled venison lettuce wraps are the perfect solution.
Most lettuce wraps are made using ground meet, typically beef, mixed with rice and seasoning, but this version allows more flexibility for people watching their carbs or calories by using strips of steak and leaving the starchy rice as an option on the side.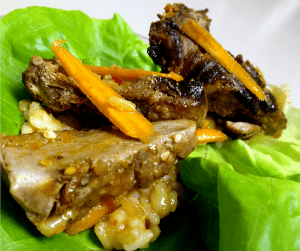 When choosing lettuce, make sure to look for sturdy but flexible leaves that are big enough to hold several pieces of meat, similar to the size of a small soft taco tortilla. We use Boston Bibb or hydroponically-grown heads of lettuce, which hold up pretty well. Simply wash your lettuce and take apart the leaves one by one. You'll need two lettuce leaves per wrap. Doubling up helps reduce dripping. 🙂
Strap it up
You'll need about a pound or so of venison back strap. Marinate in the sauce below for about 30 minutes, then place on a preheated, medium-high grill for about 4-6 minutes on each side. You don't want to overcook the tender venison. Let the meat rest for 20 minutes before slicing into thin strips.
For the toppings, be creative. Some of my favorites are thinly sliced radishes, chopped cilantro or mint, matchstick carrots, marinated cucumbers, and Sriracha sauce. I also like to serve a bowl of cooked, sticky white rice, that has been seasoned with rice wine vinegar and garlic, on the side as a topping.
Have some fun assembling your dinner! Building your lettuce wraps like a taco is a great way to get the whole family involved.
Tangy Sesame Marinade and Sauce
1/2 cup lower-sodium soy sauce
1/3 cup stout beer
2 tablespoons honey
1 teaspoon toasted sesame seeds
1 teaspoon garlic paste
½ teaspoon ground ginger
1 tablespoon chili oil
1 tablespoon Sriracha hot sauce
Salt, pepper and chili flakes to taste
Combine all ingredients, stir. Set about ¼ cup aside (before adding meat) for sauce. If it's too runny, add a teaspoon of cornstarch to thicken.
After setting some sauce aside, use the rest as a marinade by pouring over meat and sealing in a gallon-sized storage bag.
Happy grilling!
Save
Save