Our friend from Canada, Kim with Bareback Marinades, sent some sample jars after we saw some outstanding photos of dishes prepared with their stuff.
She told us, "You literally can Go Wild and put this on anything … it tastes great." We were happy to put Bareback to the tests.
The flavor was Herbs & Lavender, and from the initial taste test on a pinch of ciabatta bread, we were excited to get grilling.
The simple ingredients of this fantastic marinade include: olive oil, apple cider vinegar, lemon juice, dried Okanagan culinary lavender, herbs, onion powder, garlic powder and brown sugar. That's it.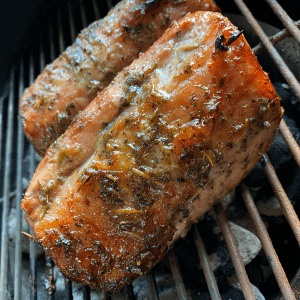 We opted for a simple taste test with a pork loin — with the only seasoning to be the marinade. No salt. No pepper. Nothing. Only the Herbs & Lavendar Marinade.
We let the loin marinate in the refrigerator for about three hours before grilling. After the soak, we cut our loin in half and prepped the kettle for indirect grilling.
Once the grill reaches 325 degrees, place loins away from the heat and let it go for about 35 minutes. Pull the loins once the internal temperature read 150 degrees.
The loins were sliced into medallions and served with sheet-pan taters and a green salad. The pork was juicy and, oh, so flavorful. To give a visual description, it was like the flavors were plucked from a springtime field, as the flavors were earthy and bright.
We love this marinade, and will use it many more times to come.
Happy Grilling!
Bareback Pork Loin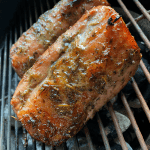 Bareback Pork Loin
Pork loin, soaked and basted with artisan marinade from Bareback Marinades, is superb off the grill.
Total Time
3
hours
35
minutes
Ingredients
2

lb

Pork Loin

3/4

cup

Bareback Herbs & Lavender Marinade
Instructions
Place pork loin in resealable plastic bag and cover with marinade. Place in refrigerator for up to three hours.

Indirect grill at 325 degrees for 35 minutes, or until center of loin reaches 150 degrees Fahrenheit.

Slice into medallions and serve with potatoes and fresh green salad.
Bareback Marinades, out of Naramata, British Columbia, creates artisan marinades with native herbs and pure natural oils. Visit Bareback Marinades for more information.