From Sean Bardwell, SBQue
During this quarantine I have purchased a ridiculous amount of coffee. I thought it would be fun to use some of what I had to make the most ridiculously caffeinated burger…ever. The Double Bourbon, Espresso Maple Bacon Burger!
I think I accomplished that goal but I'll let you be the judge.
Check out my Instagram @sbque to see how I put this together.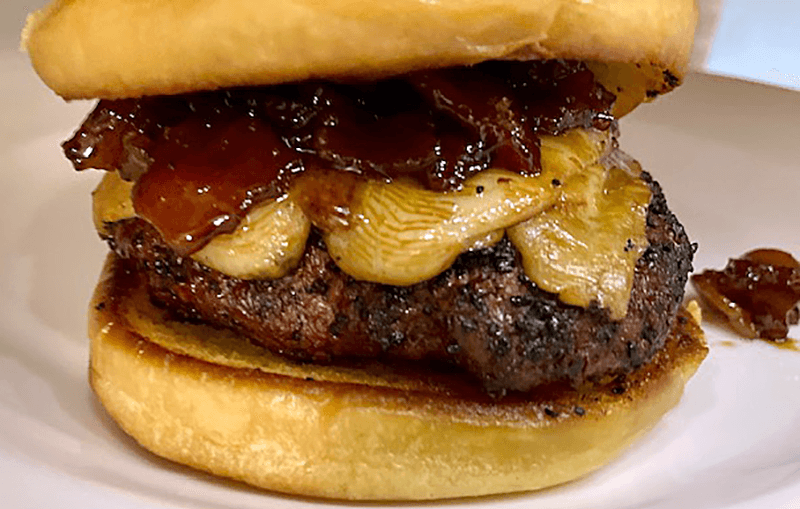 What you need
1 lb. ground beef
8 Tbsp. Maple Coffee Butter, smoked (4 Tbsp. frozen & 4 Tbsp. room temperature)
Bourbon Barrel Coffee Rub
Sartori Espresso Cheese
Bacon Jam
Maple Coffee Butter
1 stick salted butter
1 Tbsp. fresh brewed coffee (I used a Maple Bacon flavored coffee)
1/4 tsp coffee grinds (Maple Bacon)
1/4 tsp Worcestershire
1/2 tsp brown mustard
1/2 tsp maple syrup
I mixed all of the ingredients, except for the butter in a small bowl.
I then poured them on top of the butter & smoked it at 250 for an hour.
You could also just make this as a regular compound butter by simply softening the butter, then mixing the ingredients. *Freeze half of the butter for the burgers
Bourbon Barrel Coffee Rub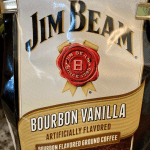 1/4 cup finely ground coffee beans (I used beans that had been aged in Bourbon Barrels)
2 Tbsp. brown sugar
1 Tbsp. chili powder
2 tsp salt
2 tsp smoked paprika
1 1/2 tsp mustard powder
1 tsp black pepper
Bacon Jam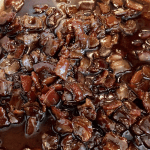 1 lb thick cut bacon
1/2 cup brown sugar
1 cup strong brewed coffee (I used Jim Beam Bourbon Vanilla
1 Tbsp. cider vinegar
Cut the bacon into half-inch slices and add them to a large frying pan.
Cook over medium high heat for about 10 min, stirring frequently until the bacon is cooked but still quite chewy.
Remove the bacon & set aside.
Pour out all but 1 Tbsp. of the bacon drippings.
Add the brown sugar, coffee and 1/2 cup of water.
Mix well.
Add the bacon. Continue to cook, stirring every 5 min until desired texture. (If you cook too long, it will become hard. Simply add more water or coffee to soften).
Remove from heat & stir in vinegar.
Build a Double Bourbon, Espresso Maple Bacon Burger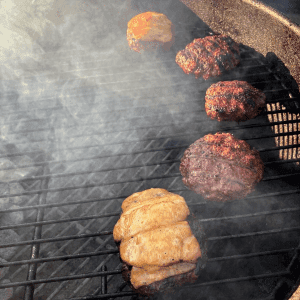 Chop up the frozen butter & combine with the ground beef. Shape into 4 patties. *I kept these in the refrigerator until my grill was ready.
Season with the Coffee rub and grill to desired temp. *I cooked my burgers on a Weber Kettle grill.
For the next step I removed the burgers from the grill, pushed all the charcoal to one side and added a handful of soaked wood chips.
Slice cheese to desired thickness & place on top of burgers. Melt the cheese. *I put the lid on my grill and kissed them with smoke until the cheese was melted.
Spread the room temp Maple Coffee butter on both sides of the bun and toast in a frying pan over medium heat.
Put the burger on the bun and top with the Bacon Jam.
You now have an SBQue exclusive, the Double Bourbon, Espresso Maple Bacon Burger.
Enjoy!
More about Sean Bardwell
---