We're breaking out the FireDisc and cooking up a little Spicy Panko Cod in the backyard.
We start with fresh cod fillets, cut to a nice size, and coat them with an egg wash.
Then, place the cod fillet in your seasoned Panko crumb mixture. Be sure to pat the fillet down into the crumbs to ensure a good coating.
We're using an all-purpose spice blend from Cajun Lee seasonings, located in Bull-Verde, Texas. Their motto is "Serious About Spice," and we believe them! This blend adds a great kick to the Panko.
Let's get started!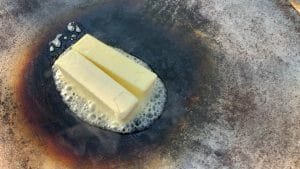 Throw two sticks of butter into a heated FireDisc. We prefer the FireDisc Shallow, or GWOK, for it's portability and excellent cooking surface.
Once the butter melts, add your Panko-coated fillets into the butter. Since you're essentially pan frying, as compared to deep frying, you can keep your fish together in the center of the disc. They won't stick together.
After about two minutes, flip your fish to cook about two minutes more, or until they reach an internal temperature of 145 degrees.
It's easy to quickly get a reading on your internal temp with a Thermoworks MK4 Thermapen. We use this every day!
Wait until you see that golden color!? Mmmmmm.
Happy Grilling!
Spicy Panko Cod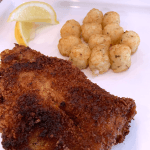 Spicy Panko Cod