This wild game steak recipe is made with a delicious marinade with a nice garlicky kick. Our test kitchen threw this together one weekend as we needed to use some venison we had leftover from a previous harvest. Not many like the gamey taste of some wild meats, so this marinade is a great way to get rid of the wild flavor. Works great on venison, hog, elk and rabbit.
What you need
We are extremely happy with our Weber 22 for searing and grilling. Combined with the added flavor of lump charcoal, this little grill is hard to beat.
The Thermapen One literally makes grilling easy. Instant readings while grilling help make sure you will never overcook your proteins. We use it for every grill session.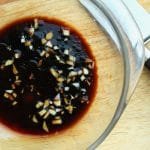 Easy Wild Game Marinade