When the scales don't lie and many are staring at extra weight after a holiday, it's time to adjust the food you eat. Our Paleo Grilled Chicken Salad will not only taste great, but get you going in the right direction for creating a healthy eating style.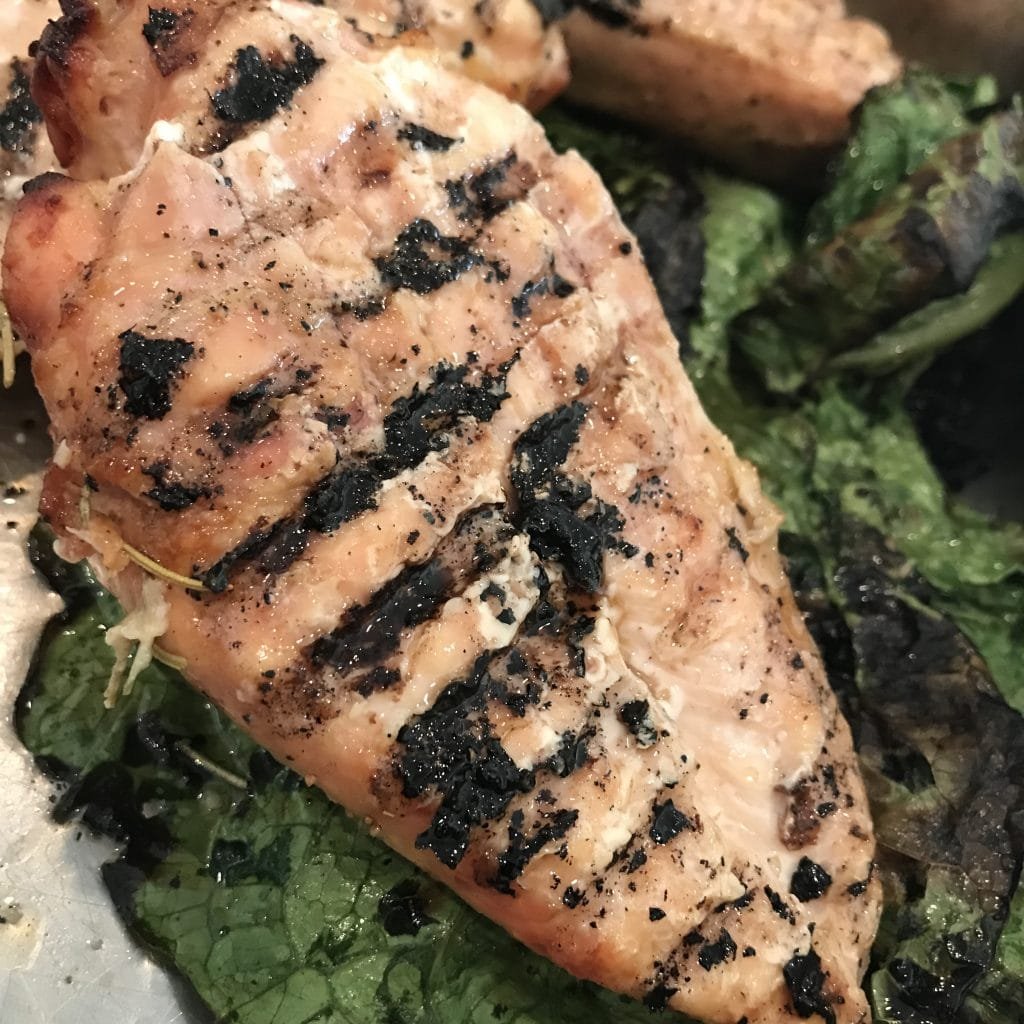 So why eat clean? The fundamentals of eating clean, such as Whole30, encourage individuals to consume more whole foods such as fruits, vegetables, lean proteins, whole grains and healthy fats while limiting (or excluding) highly processed snack foods, sweets and other mass-packaged foods.
Grilled lettuce?
Lettuces do nicely off the grill, especially Romaine, softening in the centers and charring at the tips. Their subtle bitterness is a fine counterpart to the sweet and savory found in many grilled foods, including grilled chicken.
This is an easy dish to prepare off the grill, with the only ingredients being boneless chicken breasts, Romaine lettuce and eggs. So simple — a Whole 30 chicken — but oh, so good.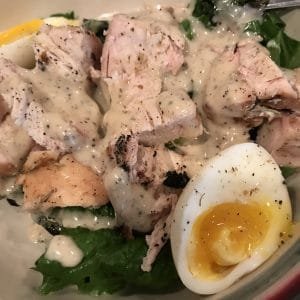 Paleo Grilled Chicken Salad
4-6 boneless, skinless chicken breasts
1 bunch Romaine lettuce leaves, washed
4 eggs (soft boiled)
Light olive oil
Sea Salt
Pepper
Wash chicken breasts, pat dry with paper towels. Season with salt and pepper.
Cut main stem from Romaine lettuce and separate leaves. Make sure they are dry before taking to the grill.
Set up an indirect grill, either by moving all the coals to one side of the grill, or using a charcoal halo.
Place chicken on cool side of grill and grill (or smoke) at 325 degrees for about 25 minutes, or until an instant-read thermometer, such as a Thermapen MK4, reads 160 degrees.
Remove chicken and set aside.
Layer the Romaine directly over the coals and drizzle with olive oil. After 30-60 seconds, flip and drizzle again. Look for the leaves to wilt and char, but be careful not to burn. You shouldn't need to sear the leaves more than two minutes, but keep an eye on it.
Slice the chicken against the grain into thin strips.
To plate, layer two or three lettuce leaves in the center of the plate. Add chicken slices on top of leaves.
Slice one soft-boiled egg in half and add to plate.
A tangy orange/b

alsamic vinaigrette is perfect for this salad.
Soft-boiled Eggs 101
Bring water to a boil, then lower it to a rapid simmer. Add the eggs to the pot, and then begin timing.
If you're just cooking one or two eggs, five minutes is perfect for a runny yolk, or cook as long as seven minutes for a more firmly set, but still loose, yolk.
This type of boiled egg is just perfect for the Paleo Grilled Chicken Salad.
Happy Grilling.