We want you to add Super Bowl Sausages to your Gameday menu … just because.
When it comes to grilling great sausages, there are some rules that need to be followed, and our friends at Johnsonville have given us the cheat sheet. Even though there are hundreds of ways to make a sausage, following these simple steps will prepare you for every sausage that comes your way.

Super Bowl Sausages Techniques
The following methods of preparing sausage will always give you the desired results.
Poach and Grill. Prepare your sausages over a medium heat. Do not boil! If you boil, you drive out the essential juices and flavorful oils in the meat and spices. Poaching allows you to appropriately brown the exterior that develops great flavor without overcooking.
Low and Slow. If you want your sausages to go straight to the grill, use indirect heat. Doing this can gain the attributes of pre-poaching with the deep caramelization from dry heat roasting.
Butterfly It. This method works well with smoke/cooked style sausages. It allows you to achieve a unique level of textures on the surfaces. Opening up a fresh sausage is as bad as stabbing it with a fork.
Gauging Super Bowl Sausages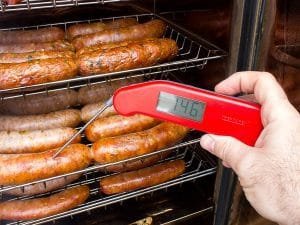 Using thermometers can also help in the grilling process. Measuring internal temperatures of your food gives you a reliable method of knowing when your food is ready. We recommend the Thermoworks Thermapen MK4 — quick and easy readings.
Here are some things to remember about cooking temperatures.
Sausage Temperature. The target temperature of a raw sausage is 160 degrees Fahrenheit. The meat of the sausage should no longer be pink.
Carryover Cooking. It's best to remove the sausage from the grill at about 5 degrees below the desired internal temperature (for small portioned items like sausages). This is called "carryover cooking". The heat that resides in the recently cooked item will continue to climb internally for a period of time after removing from the grill.
Benefits of Resting. Let all grilled items rest in a warm spot for at least ten minutes. Resting allows the juices to redistribute through the cooked protein. This will result in a much more flavorful, moist end product.
Watch for Patterns. Proteins change shape, texture and color in predictable patterns based entirely upon fixed temperatures. By following internal temperature clues/codes you can consistently deliver flavorful and safe food to your friends and/or guests.
Here are a few savory sauces to go with the perfect sausage on game day.
Chipotle Tomato
6 oz can tomato paste
1/4 cup honey
1/2 cup white vinegar
1/4 cup water
1 Tbsp chipotle paste or chipotle pepper from can
1 tsp salt
1 tsp onion powder
1 tsp garlic powder (Blend all in a small saucepan and simmer for 15 min)
Tangy Asian Sauce
1/2 cup soy sauce
1/2 cup rice wine vinegar
2 tablespoons honey
3 cloves minced garlic
2 tablespoons minced fresh ginger root
2 teaspoons sesame seeds
2 teaspoons sesame oil
Apricot Honey Mustard
1 cup Dijon Mustard
2/3 cup apricot preserves
1/3 cup honey
Happy Grilling.