By Lauren Cook, Grillax.com Senior Writer
Recent news about salmonella may have chefs, cooks, foodies, and grillmasters alike in panic about food safety. With the government shrinking manpower in departments, much of the Food and Drug Administration, which is responsible for inspecting the majority of food that Americans eat, has been working at below-normal levels.
The Center for Disease Control, which had more than 8,000 employees on furlough, was unable to verify reports of several strains of salmonella from a California chicken producer. The Food and Drug Administration, which oversees food inspection nationwide, is working at around 60 percent capacity, and is out of their normal routines with inspections.
Inspections
With the majority of food inspections halted, it may come as no surprise that there has been a salmonella outbreak in the last week, infecting hundreds of people across 18 states. Foster Farms in California, one of the largest privately-owned poultry producers in the U.S., has been named as the source of the bacteria.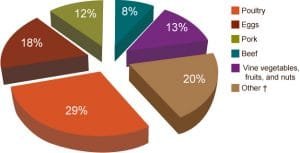 According to the National Institute of Allergy and Infectious Diseases, salmonella bacteria can be found in food products such as raw poultry, eggs, and beef, and sometimes on unwashed fruit. Food prepared on surfaces that were in contact with raw meat or meat products can become contaminated with the bacteria. This is called cross-contamination. The bacteria grow in animals' intestinal tracts and can be spread through feces. It can contaminate a chicken farm through water, feed, birds and rodents. When infected chicken waste dries, salmonella can spread through dust.
At Grillax.com, we know how important proper food safety is, but we also know how much you love grilling chicken thighs to crispy perfection, a juicy chicken breast or a mountain of wings for your tailgating party. Below are some tips to help you remain safe and salmonella free while still enjoying your grill!
Safety tips
Use separate cutting boards and knives. Do NOT quarter a chicken on a cutting board, and then turn around to use the same, unwashed board to slice the jalapeños you plan to stuff later. Use several different cutting boards, or make sure to thoroughly wash your board and knives after each use with hot water and antibacterial soap.
Be careful when washing your chicken in the sink. The splash can spread bacterial strains up to three feet away. Make sure the water is running gently and that all liquid remains in the bottom of the sink. Then, wash your sink with hot water and antibacterial soap when finished.
Invest in a meat thermometer. You need to be cooking chicken to at least 165 degrees Fahrenheit to ensure all bacteria has been killed.
Keep your chicken and other meat separate from non-meat items in your shopping cart. That package may not be as well-sealed as you think, and you don't want raw chicken juice dripping all over your apples.
Wash your hands. Just like your mom taught you, simple as that.
Happy (and healthy) grilling!
Save
Save