Just because fireworks are blowin' up doesn't mean your waistline should follow … Here are my best tips on how to help keep your calorie count in check and survive the family BBQ this fourth of July with healthy grilling.
If you are a guest, bring your own ammo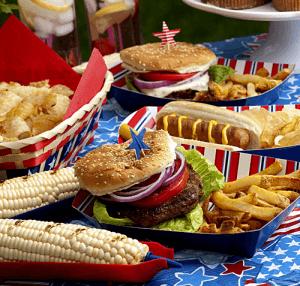 No … not the lethal kind. Prepare to surpass calorie-laden options by politely bringing your own additions to the grill. My personal favorites are the 97 percent fat free, kosher, all-beef franks (get the brand hint here folks?) At only 40 calories per dog, you can fill up on two (WITH the bun!) for only 280 calories. I like slathering mine with ketchup, Dijon mustard, and spicy dill relish. YUM.
Another good option here is to bring your own veggie burger. They come neatly prepackaged in the frozen section in several varieties. The black bean veggie burgers are great with some fresh pico de gallo on top, and at 120 calories each, they allow you to come in way under budget without sacrificing taste.
Skip the sides
This is tough, I know. All the chips, dip, and mayo filled salad assortments are calling your name. SKIP THEM. Instead, choose sides that are not "creamy", since most of the calories are coming from dairy products high in fat. Go for the real salad (you know, with lettuce), fruit, corn or other veggies. Also, watch the baked beans. At their base, they're good for you (you know what the song says!) But when you add bacon and tons of sugar, that sort of goes out the window.
My absolute FAVORITE side would be veggie skewers loaded with bell peppers, tomatoes, red onion, and mushrooms. Make sure to season these well. Make plenty, they are sure to be a hit!
Season, don't sauce
Lean meat is a great way to get your protein and feel super full for longer, so don't feel as though you need to totally skip the wings, burgers and ribs. If possible, set aside a portion of each meat you're grilling to season instead of sauce.
Many times, barbecue and wing sauces are filled with sugar. Try a dry rub for the ribs…think paprika, cayenne, garlic, onion, and salt/pepper … for those that want to skip the sauce. For the wings, try the recipe below (LC's Wing Sauce). It has a bright, clean citrus flavor.
Watch your portions
This is the Golden Rule. You can basically eat anything you want, as long as you don't eat much of it. I like to use the "three bite rule." Put whatever you want on your plate, but only take three bites. Sometimes our eyes are hungrier than our stomachs, and it helps to trick yourself by piling it on the plate, but not into your mouth.
This is a really good way to curb how much you eat for dinner…telling yourself "Don't get too full, save room for dessert" will most likely slow your eating, giving you the full 20 minutes it takes for us to reach satiation (the signal brain needs to tell us we're full). Then, use your three bite rule for dessert!
Keeping these tips on hand will help you survive all holidays, not just Independence Day. Find a way to not focus on the food surrounding you, but instead, focus on friends and family, love and good laughs. Don't forget to Grillax a little this holiday!
Happy Grilling!
LC's Wing Sauce
Prep time: 5 mins
Total time: 5 mins
Serves: 1 batch of wings
Don't pile in calories with sugary BBQ sauces, try this bright, clean tasting glaze on wings or chicken pieces.
1/3 cup fresh lemon and lime juice combo
1/3 cup fresh tangerine juice
1 tablespoon Pickapeppa or other hot sauce
2 teaspoons fresh minced garlic (I prefer garlic paste)
1 tablespoon olive oil
2 tablespoons minced red onion
Handful fresh cilantro, chopped
Dash of crushed red pepper to taste
Onion powder
Salt
Pepper, all to taste
Combine all ingredients in mixing bowl, adjust seasoning to preferred taste. Whisk. Add to wings when they come off the grill and let sit in juice for 5-10 minutes before rolling up your sleeves and digging in!
Happy Grilling.