We roast it, we can it, we cream it, and we pop it — Grilled Corn might seem like a boring food, but just because corn has been a staple of the human diet for thousands of years doesn't mean it no longer has potential as the star of some tasty recipes. And when you add in the grill, things only get better.
Some of the best corn in the country comes from where I call home, Baldwin County Alabama. Baldwin County is a unique place. Only miles from blue-green water beaches, some of the most fertile, beautiful farmland lies here in southern Alabama. And that's why I love the place so much…you can spend your morning catching redfish and then drive 10 miles to a farmer's market to get your homegrown sides.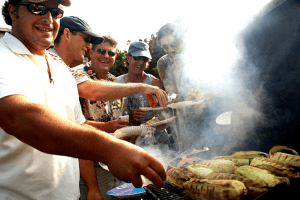 Silver King, y'all
My first choice of corn would be Baldwin Silver King. But if you can't make it to a farmer's market, just go for the sign that says "sweet corn" at your local grocer.
Choose corn with husks that are bright green and feel a little damp. Look at the bottom where the corn was cut and make sure it's not brown or discolored. Peel back some of the husk and make sure the corn kernels are bright, plump and juicy by pressing your fingernail to the kernel to see if any moisture escapes. If there is no moisture, or the kernels look dry and brown, put it back!
Prep the maize
Once you get your corn home, you have a few options before you throw it on the grill. Some folks like to leave the husk on, letting the corn get all the heat without charring. Some people shuck the corn and wrap in tin foil with butter and seasoning. And some people, including this one, like to shuck the corn, butter and season, and throw it, naked, onto the grill. This gives the corn a nice charred, roasted look and taste. If you want to save calories, substitute an olive oil cooking spray for butter.
Set your grill to medium-high heat and turn occasionally for about 6 minutes if you use this method. You will need to be vigilant so that the corn does not burn.
Maize Magic
After roasting your corn, you can do all sorts of things with it! Cut it off the cob as an addition to any salad, as a side to your meat main dish, or eat it straight off the cob. If choosing this alternative, I recommend rolling the roasted cob in shredded parmesan cheese. One medium sized cob, with margarine, seasoning and ¼ cup parmesan only sets your diet back about 250 calories. Yummmm!
Below you will find my absolute favorite way to use sweet, grilled corn. This makes a tasty addition to Mexican food. I like a dollop of this on tacos, salads and stuffed peppers.
Happy shucking!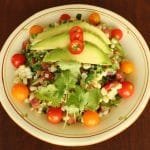 Silver King Corn and Avocado Salad
Fresh Silver King Corn and Avocado Salad is a tasty and surprisingly easy summer side dish.
What's In It?
6

fresh Silver King corn

2

c

cherry tomatoes, halved

1/2

c

red onion, thinly sliced

1

avocado cut into cubes

1/3

c

basil leaves, chopped
How to Make It
With corn in shuck, add to medium-high heated grill for indirect grilling (about 10 minutes)

Once corn is cooked (slight browning inside husk) bring inside to mix. In a large bowl, slice off kernels and gently combine the corn, tomatoes, red onion and avocado.

Pour over your favorite vinaigrette and add chopped basil. Toss gently and serve.