Enjoying the spoils of #Field2Grill isn't just during the deer hunting season. Breaking out a venison roast for an outdoor dinner party is one way to highly impress your guests and their taste buds.
The key to great-tasting wild game in the warmer months is taking care of it before it hits the freezer. One of the biggest mistakes of sportsman in the field is not taking care of their game after the harvest. Not only does it increase the 'gaminess' in the flavor of the meat, it could cause serious contamination, which could lead to sickness, even death.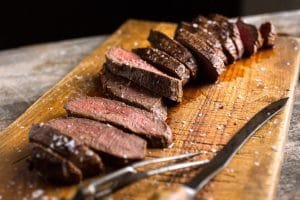 There are a couple of basics for after the harvest. Hang the deer to drain blood and cool to 50 degrees Fahrenheit within six hours of harvest. Freezing the venison more quickly will result in tougher meat. You won't need to hang or age the venison longer, however if you store it at 34–40 degrees Fahrenheit for up to eight days, taste and tenderness will be improved.
Venison roast starts with proper butchering
Here are the basics of deer butchering/cleaning:
Remove the skin and take care to keep the hair side away from the carcass.
Be sure to remove as much fat as possible, as the fat has a strong "gamey" flavor.
Trim any trauma damage and wash the outside.
Allow the animal to drip-dry. Once dry, it is ready to be cut.
The hindquarter provides great cuts of meat for the grill or smoker. It includes the sirloin, round, rump and the shank.
Here's what you'll need to make that perfect venison roast from the field.
Venison round roast
Olive oil
Bobby Big Pants Wild Game Spice Rub
Pecan/Apple wood chunks
Clean roast under fresh water and pat dry with paper towel. Apply olive oil to the roast. Rub in the spice mix and place in deep pan. Cover with plastic wrap and let come to room temperature. This should take about an hour.
Prepare your grill for indirect cooking, but set up for an initial sear with high temperatures. Sear the roast on four sides, about 1-2 minutes each, and move to cool side of grill under the exhaust vent.
You will close off the vents to allow your grill to get back down to 275 degrees Fahrenheit for the slow smoke. Once your grill reaches 275 degrees, slide open the vents to maintain.
Smoke the venison for 15-18 minutes per pound, or until the meat temperature reaches 140 degrees. You can use an internal thermometer, such as a Thermapen, to instantly check for proper internal temperature.
Allow the venison roast to rest 15 minutes before slicing. This is an excellent dish served with garlic-roast potatoes and maple-glazed carrots.
Happy Grilling!