Nurse sharks are known for being bottom-dwellers, preferring warm and shallow waters in the Atlantic and eastern Pacific oceans. Cruising the sea bottom for snacks, nurse sharks suck the sand, using their strong jaws to crush shellfish. Their diet consists mainly of fish, shrimp and squid.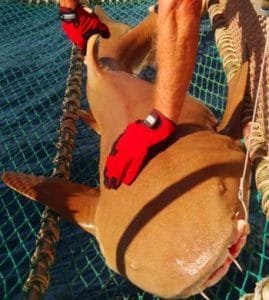 We're joining in on the nurse shark diet with spicy grilled shrimp. This recipe is surprisingly easy and fast, but is sure to become a favorite menu item. You can adjust the heat by adding more or less of the spice-heavy Sriracha sauce.
Dieters can rejoice, too, since this recipe is low-calorie AND Paleo diet friendly. So enjoy your shark week treat without any guilt.
Happy grilling! 🙂
Spicy Grilled Shrimp
Eat like a nurse shark with spicy grilled shrimp. This is a super fast and easy recipe that can be adapted to suit even those who prefer less spicy dishes.
Ingredients
1 pound raw shrimp, peeled and deveined
¼ cup sriracha sauce
1 teaspoon garlic paste or minced garlic
1 teaspoon onion powder
1 teaspoon lemon zest
1 teaspoon cumin
1 teaspoon honey
Light your grill to medium heat.
Combine all marinade ingredients.
Place the shrimp onto skewers. Brush with marinade until well coated.
Cook for 3-4 minutes per side. Be careful not to overcook… your shrimp will come out tough and inedible.
Serve with yellow rice and home-made guacamole.
#SharkWeekGrill