TIME TO CREATE: 4 hours, 30 minutes
Makes 40 Jello Shots
Caramel Apple Jello Shots Ingredients
Fresh lemon juice from 1 lemon
5 apples (Granny Smith work best)
1/2 cup water
1 envelope caramel hot chocolate mix (Nestle or Land o'Lakes; regular hot chocolate is OK, too; each envelope is about 1 ounce)
1/4 cup sweetened condensed milk
1/4 cup caramel sauce
1 envelope unflavored Knox gelatin
1/4 cup sugar
1 cup vodka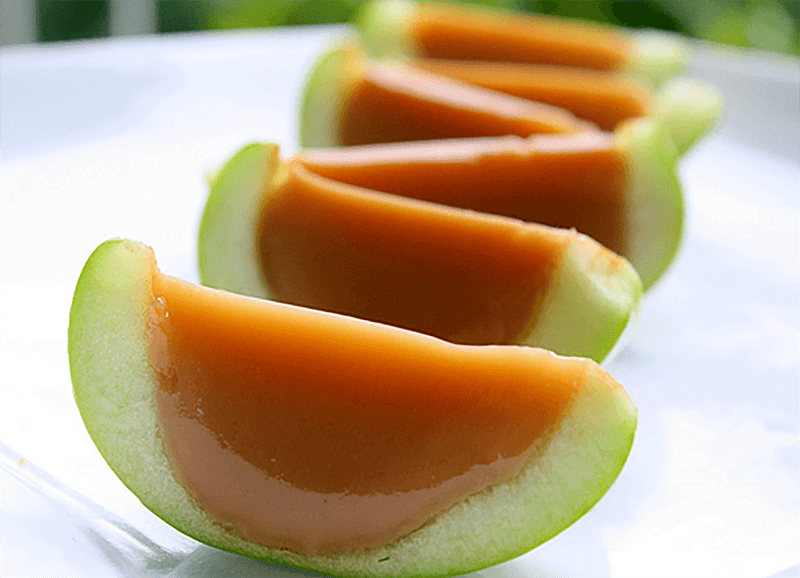 Caramel Apple Jello Shots Prep
Cut the apples in half lengthwise. Using a melon baller, scoop out the inside of the apples, taking care to create a shell of even thickness. Set apple halves into cups of a muffin pan and squeeze or brush lemon juice onto cut apples to reduce browning. Place in fridge until filling is ready.
Make filling: In a medium saucepan, combine water with hot chocolate mix and whisk until the cocoa dissolves. Add evaporated milk and caramel sauce and whisk again to combine. Sprinkle gelatin onto mixture evenly and allow to sit about 2 minutes. Heat the mixture over medium-low heat, whisking occasionally, until it just reaches a gentle simmer — this is to ensure gelatin is fully dissolved.
Add sugar and simmer gently for about a minute. Turn off the heat and let mixture cool to warm. Add vodka. Transfer to a container with a spout.
Fill each apple cup with caramel jello mixture. Refrigerate a few hours or overnight.
To serve, place apples flesh-down (Jello down) on cutting board. Cut lengthwise in half, then in half again. Trim off any brown parts with a paring knife. Serve immediately. (The lemon juice can only prevent the browning for so long).
via BuzzFeedFood & thatssomichelle.com