Cooking for loved ones is fun and exciting, and this Thai Basil Beef recipe is sure to please that special person in your life.
We're breaking out the Limited Edition FireDisc Cookers Desert Tan to create this very easy-to-prepare dish. The versatility of the FireDisc is great for these types of dishes since all your cooking can be done all at one in one pan … or in this case, a disc.
Thai Basil Beef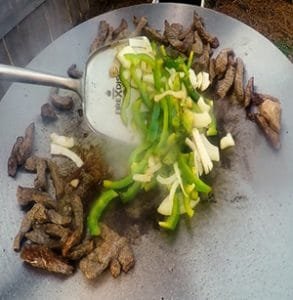 1 pound beef, thinly sliced against the grain (Flank works well)
2+ tablespoons vegetable oil
1 bell pepper, thinly sliced
1 sweet onion, diced
3 garlic cloves, smashed/sliced
¼ cup coconut aminos
2 teaspoons fish sauce
1 teaspoon Gold Tap honey
pinch of salt
1 cup Thai basil leaves
Cilantro
Heat your FireDisc Cooker to medium-high heat, add oil. Once pan is very hot, space out some of the meat in the pan making sure not to crowd it, and sear until browned on both sides, about 2 minutes per side depending on the thickness. It's very important not to crowd the pan here because you want to get a crispy crust on the meat. Once meat is browned, move to the outer edges of the FireDisc.
Add the bell pepper, onion and garlic and sauté until peppers and onions are soft, scraping the beef bits from the bottom of the disc, about 8 minutes.
Add the coconut aminos, fish sauce and honey to the pan with the pepper and onions and let cook down on the disc for about 4-6 minutes. Once reduced, pull the beef back to the center of the disc and add the Thai basil leaves and mix. Cook for 1-2 minutes, until basil is wilted.
Garnish with cilantro and serve over your favorite rice.
We hope your date night with this recipe is outstanding!
Happy Grilling.