They say the way to a person's heart is through the stomach. At Grillax, we consider that a hard fact, and our Steak Wraps are just the ticket on Valentine's Day.
There's no better way to win over your sweetheart than with a thoughtful, home-grilled dinner.
One of the easiest and quick grilling dishes to prepare for your sweetheart is Steak & Shrimp Brochetas. Brocheta is a Latin term for skewered, so cooking and serving is easy.
The only ingredients needed are flank steak, medium-sized shrimp, asparagus and portobello mushrooms.
Steak Wraps 101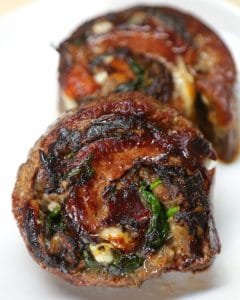 Marinate your whole flank steak and peeled shrimp before grilling for about 2 hours. A typical marinade for this dish is a soy sauce, olive oil mixture. (1 cup soy sauce, 1/2 cup olive oil)
After marinating, sprinkle the steak generously on all sides with kosher salt and freshly-ground pepper. Make very thin slices on the flank, against the grain, and at a slight diagonal so that the slices are wide.
After slicing the steak, place a shrimp at one end of the flank, along with two slices of asparagus and 1/2 mushroom cap.
Tightly roll the steak to the other end and insert skewer. Repeat this until all of the ingredients are wrapped lovingly by the flank.
Over high heat, place the skewers on the grate and let cook 2 minutes per side. Flank steak is best eaten medium rare, so the cook time won't be long.
The flank steak skewers have a great texture between the juiciness of the steak, the richness of the shrimp and mushroom, and crunchiness of asparagus.
Serve with a rice pilaf, fresh spinach salad and a nice 2006 Pinot Noir, and you'll be sure to start off the evening just right.
More Grillaxing Stuff …