It's the week of the big game, and you are determined to make this a weekend to remember by impressing your crew with the best tailgate in years. How do you pull it off when you are a self-proclaimed tailgating rookie? Follow these simple tailgating tips and you will be on your way to before- and after-game legend.
Steps to Tailgating Success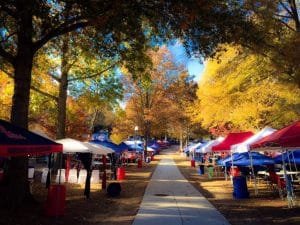 Excite the crowd. One-up typical tailgating grub like burgers and hot dogs. We suggest  Chicken Spiedie.
Make hand-held food. The goal at a tailgate party: Avoid utensils. Serve food you can hold in one hand.
Wrap it. Wraps are the ultimate tailgating food: They're easy to eat and transport, and kids love them … seriously.
It's a team sport. Don't be shy about putting your fellow tailgaters to work: Ask 'em to pitch in and bring a signature dish or drink.
Watch the clock. Coaches don't wait until game time to plan their strategy, and you shouldn't either.
One week before: Pick your menu. Decide what you want to cook-and what you want your guests to bring.
Two days before: Shop for ingredients and for supplies like disposable plates and utensils.
The night before: "Chop, slice, marinate, brine freeze and blend at home — do anything you can to prep ahead!"
Pack like a pro. Keep a box of knives, tongs cutting boards, plastic bags and aluminum foil ready to go for his next tailgate.
Stay cool. To save room in your cooler, freeze water bottles before the game and use them as ice packs. They'll thaw by the time you're ready to eat, so you'll have ice-cold water for everyone to drink.
Take a time out. The grillmaster should have fun too, so don't worry about making every single thing from scratch. Side dishes are OK from the grocery … LOL!
Fire it up. Skip the lighter fluid (and its funky taste) and use a chimney starter, an aluminum canister. Fill it with lump charcoal which ignites faster and burns more cleanly than briquettes
Clean up your act. Cooking without a sink is messy, so bring disinfecting wipes. Also pack collapsible trash cans and a box of trash bags. And plastic containers are great for leftovers-in the rare event that you have any.
— some information via Just Grillin
Save
Save