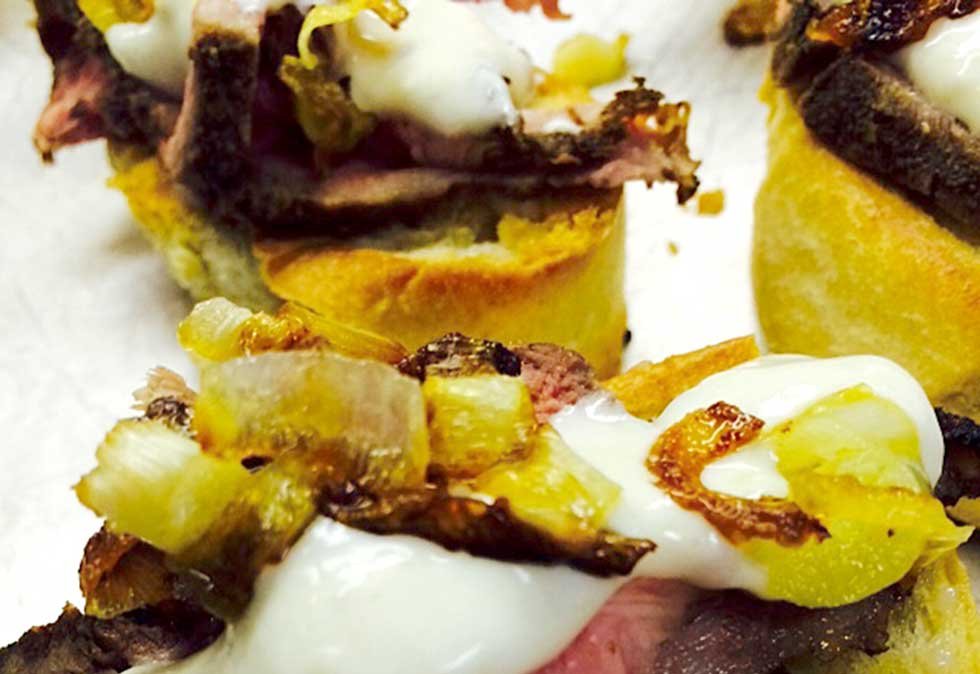 There are very few carnivores who would deny that steak is a perfect meal. But steak leftovers … adding it to a crispy crostini and … MIND BLOWN!
This is the perfect way to use a leftover steak, and a simple and easy way to impress your guests.
Start with a nice, thick strip steak seasoned the way you like and grilled to a rare to medium-rare doneness. Set aside to rest. A leftover steak can be used as the chilled steak tastes fantastic on crostini, as well. Slice the steak into thin.
For the crostini, slice a loaf of French bread into two-inch thick pieces. Place evenly onto a greased baking sheet and bake for 10-15 minutes at 350 degrees. When slightly browned, remove the crostini from the oven and brush lightly with a mixture of melted butter and garlic. Set aside to allow the crostini to cool.
In a small saucepan, caramelize 1 cup of chopped yellow onions and set aside.
The following tangy horseradish cream sauce is the perfect topper to this crunchy appetizer.
1/2 cup sour cream
1 Tbsp lemon juice
1 Tbsp creamy horseradish
1 Tbsp mayonnaise
1 tsp minced garlic
1/2 tsp black pepper
All that's left to do now is construct the crostini. It's simple — bread, steak, sauce, onion. That's it. And you thought it would be difficult!
Happy Grilling!
Related articles across the web