Each year sportsman worldwide gear up for a new season in the woods, and that means making room in the freezer for fresh proteins.
One of our favorite end of summer meals is smoked venison. Not only is it easy to prepare and extremely healthy for you, it's so dang good!
We partnered with one of our favorite marinade manufacturers, Allegro Marinades, to help us with this fun grill/smoke session.
Here's how we create mouthwatering smoked venison on a kettle grill.
Apple Smoked Venison
3-5 pounds venison, deboned
12 ounces Allegro Hot & Spicy Marinade
Apple wood chips
Start by removing any freezer burn from your venison and discard. Try to remove any leftover silver skin on the venison and discard.
Place venison is large bowl or gallon-sized zipper bag and cover with marinade. Set aside for a minimum three hours.
Set up your kettle grill for indirect grilling and bring temperature to 275-300 degrees Fahrenheit.
Sear the deer meat over the coals for two minutes on each side, then move to cool side of the grill. Add a handful of apple chips to the coals and put the lid on the grill, with the top and bottom dampers barely open.
After an hour, check the internal temp of your venison. If smoking backstrap or tenderloins, pull them off the grill at 132 degrees (medium rare). You can do this easily with the Thermoworks Thermapen MK4 … an instant read thermometer that works very well.
If smoking a large roast, such as a top round, add more chips at this point and cover for another smoke.
Once the internal temperature reaches 138 degrees (medium rare) on the smoked venison roast, pull off the grill and let rest before serving.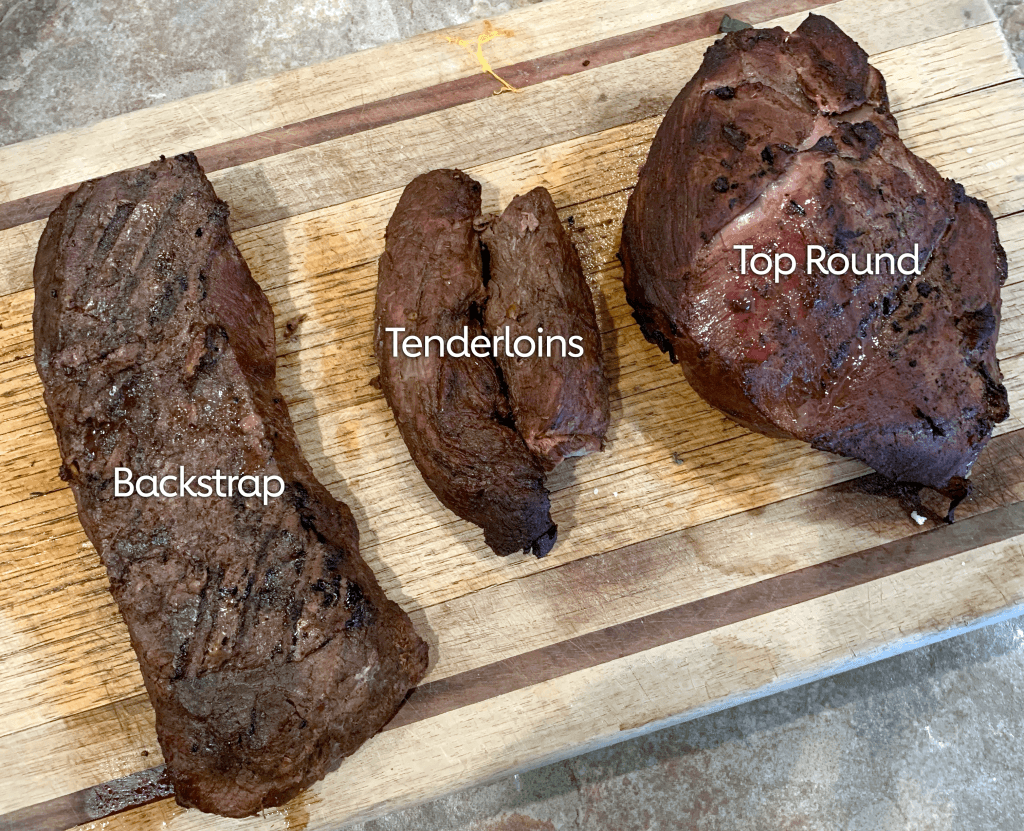 Thinly sliced venison roast makes the best sammiches, but is superb with a creamy horseradish dollop, with new potatoes and asparagus.
Happy Grilling!
More smoked recipes