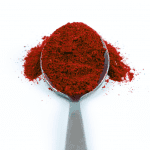 Homemade Smoked Paprika
How to Make Smoked Paprika at Home
How to Make It
Dry your peppers. (See recipe notes)

Break dried peppers into pieces small enough to fit into grinder.

Sift the ground pepper through a fine-mesh strainer until you get a consistent, clean powder.

Place in air tight container for up to nine (9) months.
Grillmaster Notes
If you grow your own peppers, you will need to hang them outside when temperatures are steady at 90 degrees or more for a minimum seven (7) days. Once the peppers are dry and brittle, you are ready to make your paprika.
If using a food dehydrator, it could take up to 8 hours to fully dry the peppers.
If using an oven, set temperature to 140 degrees Fahrenheit and place peppers on sheet pan for 18-24 hours. The door of the oven will need to be propped open two to six inches to allow the moisture to evaporate.
Tip: Use thin-skinned peppers as the thick-skinned peppers will be prone to rot.