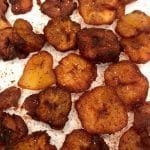 Fried Sweet Plantains
A great addition to any Paleo menu as a snack, plantains - a super sweet and savory snack - will create a delicious rave in your mouth.
What's In It?
2

Ripe plantains

2

c

Coconut oil

2

T

Sea salt

2

T

Cinnamon

2

T

Coconut sugar
How to Make It
With a mandolin, slice the plantains about 1/8 inch thick.

Heat coconut oil in FireDisc Cookers to 350 degrees. Drop the plantains into the oil and fry until golden brown, about two minutes. Watch the temperature and make sure you don't go over 350 degrees, as the plantains will burn quickly. Remove plantains and place on paper towel. Don't pile them on top of each other as they will stick to each other.

After 10 minutes, sprinkle salt, cinnamon and sugar over the plantains. Eat as a snack, or a dessert with coconut ice cream.