Ever been offered grilled turds? Steve from BBQBros.net has created arguably the best tail-gating grilling dish that we've ever seen. It combines the sweet, savory, spicy and hearty ingredients that create something really good on the grill.
We present to you … Atomic Buffalo Turds!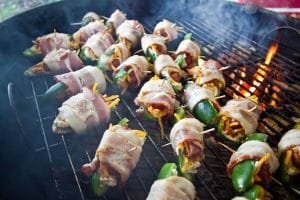 These are so good, you may not take anything else to the remainder of tailgates you will attend in your lifetime. 🙂
Enjoy and let us know if you have tried this, or have your own version of grilled turds! (We can't believe we are publishing this!)
Visit Steve and Grillax with him at http://bbqbros.net/
Grilled Turds
6-8 jalapeños (find the biggest ones you can from your local grocery store)
2 (8 oz) containers of cream cheese
1 package of "Lil Smokies" (prefer all-beef )
3-4 cups shredded sharp cheese
1 package of bacon (prefer thick-cut)
Your favorite BBQ rub
Toothpicks
Cut the jalapeños in half and scoop the seeds and inner guts out. Now, in this order, fill with cream cheese, sprinkle with rub, press some shredded cheese down, press a Lil Smokey into it then wrap with 1/2 a piece of bacon and stick a toothpick through to secure it all.
Get your kettle going and set up for an indirect cook. Try to keep the temp down if you can and slow smoke them with a log of applewood or whatever smoke-wood you favor for about 1 1/2 hrs.
These will be piping hot when you pull them off because of the cream cheese in the middle, so let them cool for 5-10 min.