Call it urban legend, folklore, and old wives' tale … whatever you want. Everyone knows the reputation behind oysters: they set the mood. Whether you're looking to impress a new friend or spice things up from the norm, these char-grilled oysters are a guaranteed hit.
Note: Char-grilled oysters are great for the first-timer (oyster eater, that is). If unfamiliar with the taste and texture of oysters, trying them hot off the grill is a less intimidating way to start.
Char-grilled Oysters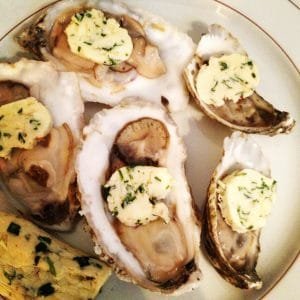 1/2 pound unsalted butter, softened
4 tablespoons smashed, chopped garlic
1 tablespoon fresh chopped basil
2 tablespoons Tabasco chipotle pepper sauce
1/2 teaspoon kosher salt
1/4 teaspoon ground pepper
1/4 teaspoon white pepper
Grated parmesan cheese, optional
36 large Gulf Coast oysters
Using a food processor, use the pulse speed to whip the butter with the garlic, basil, pepper sauce, salt and pepper until blended and smooth.
Transfer the butter goodness to a sheet of plastic wrap and roll it into a 2-inch-thick cylinder. Refrigerate for about 15 minutes, until firm enough for slicing. Slice the butter into 36 pats, one for each oyster.
Place the washed and cleaned oysters on a hot grill (400 degrees), cup up and cover until the oysters open, which could take anywhere from five to seven minutes. Note: Some oysters may take some prying to open, so have an oyster knife handy.
Remove the oysters from the grill making sure to keep the salty liquid (commonly called liquor) inside.  Move quickly and remove the top shells and loosen the oysters from the bottom shells by . Top each oyster with your seasoned butter and return the oysters to the grill. Cover the grill and cook until the butter melts and the oysters are hot — no more than one minute.
Serve immediately with an amber or dark beer. For added flavor, sprinkle each oyster with Parmesan cheese.
Save
Save