You've already got a good thing going with a cut of beef like ribeye steaks. Without straying too far from that simple goodness, the Delmonico-style steak adds just the right amount of spice. It's perfect for at-home date nights, bringing bold to the table.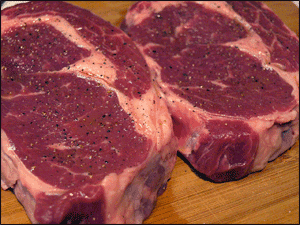 Delmonico Steak
20 garlic cloves, peeled
1/2 cup olive oil
1/4 teaspoon kosher salt
3 tablespoons fresh roughly chopped rosemary
3 rib eye steaks ( about 2 to 2 1/2-inches in thickness)
Kosher salt
Coarse-ground black pepper
2 cups fresh finely-grated parmesan cheese
In a cast-iron skillet, add peeled garlic cloves and oil. Grill over medium-high heat until garlic is golden brown. Remove and add to cutting board.
Crush garlic with fork until a paste forms. Add salt and rosemary, mix well.
Add some of the cooled, rendered olive oil to the steaks and massage in salt and pepper.
Grill steaks 3 minutes per side. Remove from grill and coat with the garlic paste, then press parmesan cheese into the garlic paste.
Return to the grill for about 60 seconds per side, making sure not to burn the cheese.
Allow meat to rest before serving.
Happy Grilling!