For most people, the idea of grilling shark meat sounds … wrong. But there are plenty of shark species that are well outside the realm of endangered, and, when you really think about it, they're just big fish!
Grilling shark is along the same lines as grilling tuna. It's not quite the same as beef, but it's not as flaky as salmon or other fish. Shark is actually a great way for beginner fish-grillers to get their feet wet. When you add blackening to the mix, you've got a winner with our Blackened Shark Steaks.
Some types of shark we recommend are black tips, spinners and bonnet heads (just not the scalloped hammerheads, who have recently made it to the endangered zone). See this resource if you're unsure of what's legal.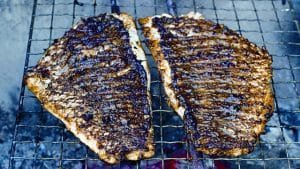 Don't miss the most important step: you have to properly clean your shark meat before cooking to avoid unpleasant taste and odor. Click here for our advice on cleaning and filleting your shark meat.
The rub below is flavorful without overpowering the taste of the shark steak, and is great served with grilled zucchini, onions and tomatoes, and light coconut rice.
Happy grilling!
Blackened Shark Steak
1/2 c soy sauce or tamari
1/2 c Worcestershire sauce
4 T onion powder
4 T garlic powder
1/2 t ground sage
1/4 t dry mustard
1 t ground black pepper
1/2 cup butter
Blackening rub (see below) to coat
6 6-oz shark steaks
Whisk soy sauce, Worcestershire, and spices together in a small bowl. Place shark steaks in a large glass baking dish, and pour marinade over. Turn steaks to coat. Refrigerate for about 30 minutes.
Heat grill to high heat, then place empty cast-iron skillet on the grates for five minutes. Coat shark pieces with blackening rub on both sides.  Add butter to skillet to melt. Add the steaks and grill 5 minutes each side or until the center is just cooked through and the outside is blackened.
Blackening Rub
3 tablespoons paprika
1 tablespoon brown sugar
1 teaspoon salt
1 tablespoon onion powder
1 teaspoon ground black pepper
1 teaspoon cayenne pepper
1 teaspoon dried ground thyme
1 teaspoon dried oregano
1/4 teaspoon lemon juice powder
1/2 teaspoon garlic powder
#SharkWeekGrill