Sean Bardwell, SBQue (The Wonka of Spice)
As a self-proclaimed burger junkie I will use any excuse I can to make or create a new Burger.
Sometimes I'm given a lot of reasons to do just that: like it's Burger Month 2020, it's sunny & 70 degrees and a local brewery partnered with a local creamery to create a cheese made using your favorite beer.
I normally make sauces & rubs and try to come up with weird flavor profiles but for this one, I wanted the cheese to be the star so I made this burger using minimal ingredients while still having a ton of flavor … I think I succeeded in creating a Beery Good Burger!
I didn't really plan this burger, it all just kind of came together so the recipe may not be exact but it should be pretty close.
You can also check out my Instagram @sbque to watch how I put this together.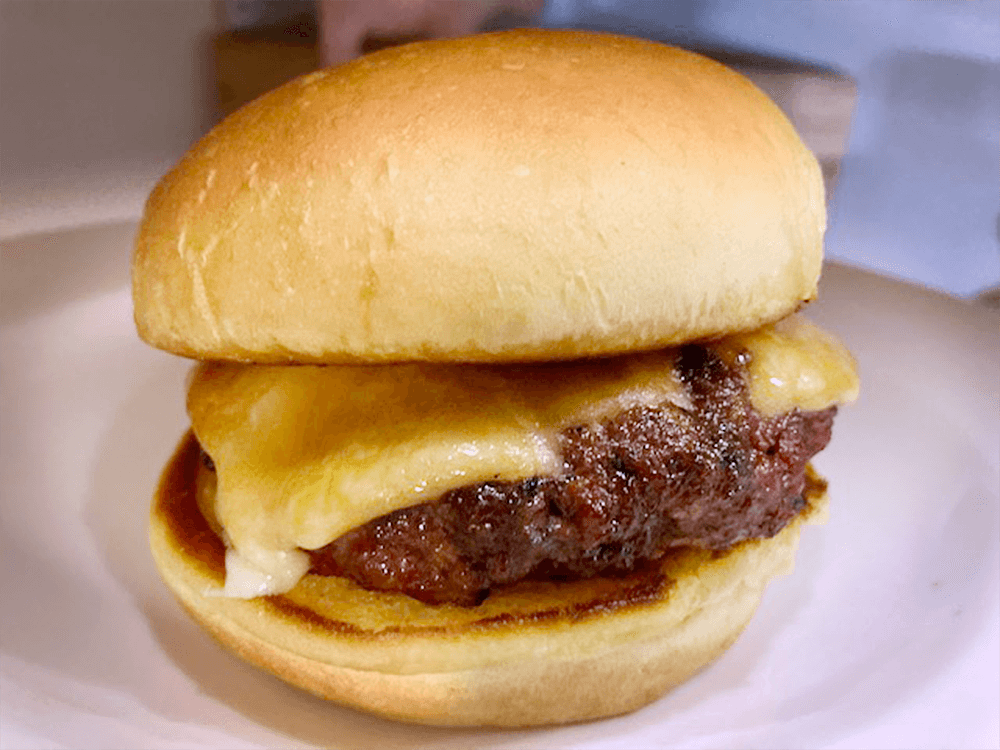 A Beery Good Burger
WHAT YOU NEED
2 lb. beef ribs, trimmed
1 lb. chuck steak, fat removed
4 Tbsp. frozen butter, smoked
Salt and Pepper to taste
Troeg's Perpetual IPA Beer Cheese
4 Potato Rolls
Pickle Salt
2 Tbsp. salt
1/2 tsp. pickle juice
1/4 tsp dill weed
Mix all ingredients. Bake at 350 for 10 min. Pulse in a spice grinder.
Dill Pickle Mayo
1/4 cup mayonnaise
1 tsp. dill pickle juice
about a 1/4 tsp. pickle salt, to taste
Mix all ingredients in a small bowl. Refrigerate until ready to use.
BUILD YOUR BURGERS
Trim the meat off of the beef ribs and run through on meat grinder (coarse grind).
Trim the fat off the chuck steak and run through a meat grinder (coarse grind).
Run frozen butter through a meat grinder (coarse grind).
Combine and shape into 4 patties. (I kept these in the refrigerator until my grill was ready.)
Season with S&P and grill to desired temp. *I cooked my burgers on a Weber Kettle grill. For the next step I removed the burgers from the grill, pushed all the charcoal to one side and added a handful of soaked wood chips.
Slice cheese to desired thickness & place on top of burgers. Melt the cheese. (I put the lid on my grill and kissed them with smoke until the cheese was melted.)
Spread Dill Pickle mayo on both sides of the bun and toast on in a frying pan over medium heat.
I simply put the cheeseburger on the toasted bun and ate it that way with no other condiments. It had amazing flavor and by cutting the frozen butter into the burger, it kept it very juicy.
Enjoy! a Rafflecopter giveaway
Disclaimer
Thank you to #BurgerMonth Sponsors: Cabot, Anvil & Hammer, New York Beef Council, Red Duck Foods, and Spoonabilities for providing prizes for this epic event. All opinions are my own. The #BurgerMonth giveaway is open to U.S. residents, age 18 & up. All winning entries are verified. By entering you give the right to use your name and likeness.
The number of entries received determines the odds of winning. One winner for each weekly giveaway will be selected. The prize packages are sent directly from the sponsors. Winners have 48 hours to respond or they forfeit the prize and another winner(s) will be chosen.
The #BugerMonth Bloggers are not responsible for the fulfillment or delivery of the prize packages. No purchase necessary. Void where prohibited by law. This promotion is in no way sponsored, endorsed or administered by, or associated with Facebook, Instagram, Pinterest, Twitter or any other social channel mentioned in the #BurgerMonth posts or entry.