Everyone loves a great berder … moreso, The Ultimate Hamberder.
The fast food chain Burger King took aim at President Trump over his mention of "hamberders" in a recent tweet.
"Due to a large order placed yesterday, we're all out of hamberders," the chain said in a tweet from its verified account on Tuesday morning. "Just serving hamburgers today."
The jab arrives on the heels of a tweet shared by Trump hours before in which he boasted about the number of "hamberders" he served Clemson University's championship football team during their visit to the White House on Monday.
"Great being with the National Champion Clemson Tigers last night at the White House. Because of the Shutdown I served them massive amounts of Fast Food (I paid), over 1000 hamberders etc," Trump said in the since-deleted tweet.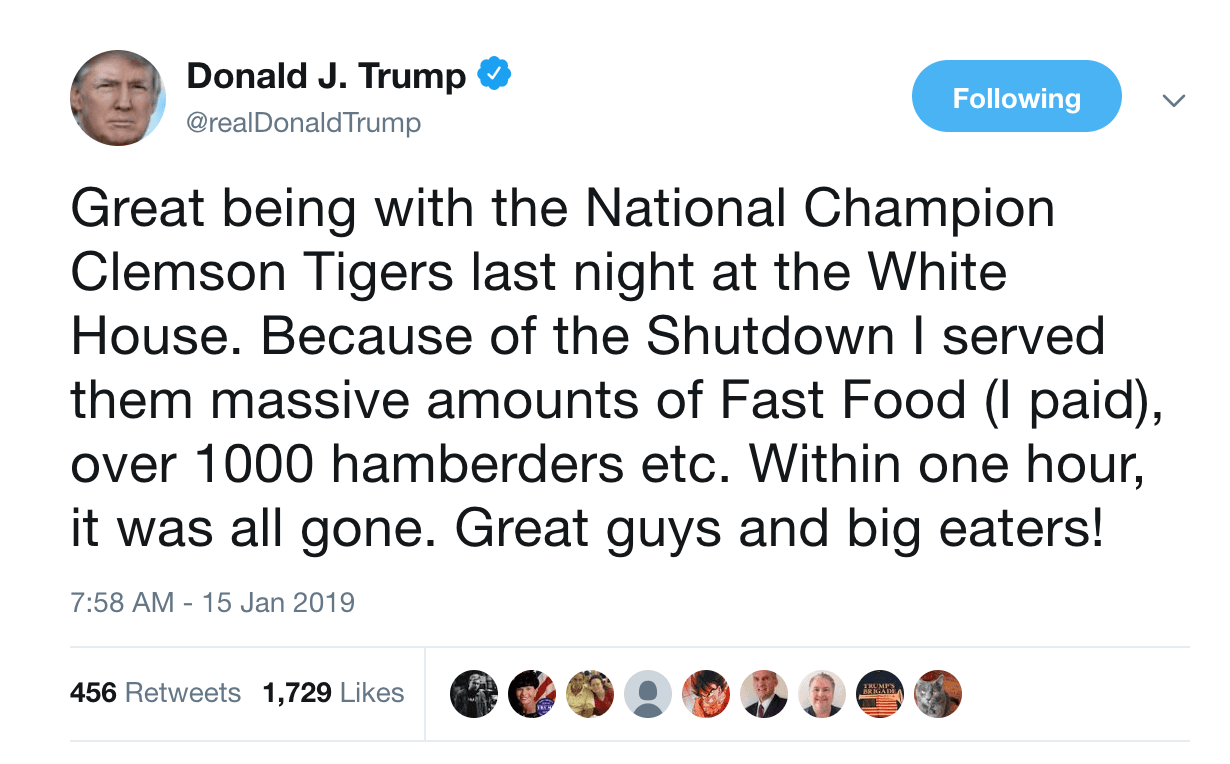 Here's a great recipe for The Ultimate Hamberder.
Hamberder Pieces
1 pound ground chuck 80/20
1/2 teaspoon sea salt
1/4 teaspoon coarse black pepper
4 sesame hamberder buns
12 dill pickle slices
Ketchup
Mayonnaise
1/2 sliced white onion
Build a Hamberder
Season ground beef with salt and pepper and form into patties.
Butter hamberder buns in and toast on grill until lightly browned, and set aside.
Heat grill to high heat.
Grill the berders for two to three minutes each side indirectly, while cooking add a dash of salt to the berder.
Finish over the coals for one minute to char.
Build the berder by placing the meat on the bottom hamberder bun, then add 3 or 4 pickle slices, 3 or 4 onion ring slices, 2 to 3 tomato slices.
Then add ketchup to the berder, lettuce, and spread mayo onto the top hamberder bun, and place the top hamberder bun onto the berder.
Happy Grilling!
via The Hill, CopyCat.com