Ole Miss and The Grove — Nestled in the middle of Ole Miss' campus lies a 10-acre patch of grass that is home to one of the most unique tailgating experiences in the country. The Grove has been the destination tailgating area for Rebel fans for generations.
In the early 1990's, tents became the best way for fans to enjoy their pregame experience after cars were outlawed inside The Grove due to flooding. For Lantz and Jane Foster, their tent has become one that is both iconic in its color and in the attention it has drawn. Lantz graduated from Ole Miss in 1982, but Jane was a Mississippi State grad. She felt like an outsider at first in The Grove and did not want others to experience the same feeling. So she had an idea.
"She said she wanted our tent to be easy to find, and a welcoming place for visiting schools plus Ole Miss people who are not fortunate enough to have their own tent," Lantz recalled.
The tents
Jane got a local artist to paint the top of their tent zebra-striped. Its iconic design was born. What started as one 10×20 tent has turned into 500 square feet of covered area with a host of different families from across the southeast and beyond that.
"I can't tell you how many kids we have pretty much adopted through the years, and then their parents want to join the tent with us," Lantz said. "So they will join for three years and then they will graduate. It is like a family that keeps on growing."
Lantz and Jane have grown so close with some of their football-season visitors that they've attended their graduation ceremonies. It started with Jane not wanting others to feel left out in The Grove and has turned into friendships that have lasted decades.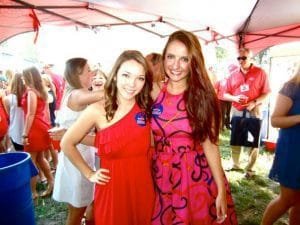 Through the years, Lantz has seen the popularity of Grove tents skyrocket to the point in which the 10 acres of grass and trees are jam packed every Saturday. He remembers a time in which there would be roughly 50 tents and endless space in between.
"25 years ago, there would be 50 tents and then nothing else there. Kids could have a complete football game in The Grove, throw it as far as they want and go play," Lantz recalled.
They call him Eli
He points to Eli Manning as the man responsible for the spike in Grove tents. Manning played quarterback for the Rebels from 2000-2003 and led the team to its first 10-win season in a generation. It's become a pretty organized system today with tent companies setting up for many families. Lantz and Jane still set up themselves with the help of friends and family. Sometimes they get up as early as 5 a.m. to begin preparing the food for the day's festivities.
"We have been in the same spot for 15 years and have never really had an issue getting it," Lantz said. "It is never really a problem. I love the way The Grove is done now. I really couldn't come up with a way to make it better."
The food
There is a lot of food. The Fosters feed close to 1,000 people per weekend. Their guests extend beyond adopting college students and their families looking for a place to enjoy tailgating. They have regular visitors from other SEC schools that come every year their team plays in Oxford. Lantz remembers one weekend when a group of firefighters from New York came down for a bachelor party and asked if they could hang around the famed zebra tent. They felt at home pretty quickly.
"They had more fun than you could ever imagine and kept asking the groom if he actually ever wanted to go back home," Lantz recalled.
The Fosters enjoy their fall family because they believe it embodies what The Grove represents: a group of people coming together to have a good time in a place where everyone is welcome. They hosted families from Texas, Florida, Missouri, Georgia and many more states in between. They enjoy meeting new people and giving others a place to go.
"My wife kind of felt like an outsider to begin with and her goal was to make it hospitable for everyone," Lantz said. "It doesn't matter if you are a Tiger from LSU, you are welcome at our tent. We actually make the theme of our tent coincide with our opponent."
Family traditions
The Fosters have three kids of their own who grew up coming to The Grove and now have kids themselves. Lantz remembers his kids realizing that not every other SEC venue is like The Grove, and certainly not as welcoming.
"Once they got to their teenage years they did realize how different it was, and that people were not as welcoming at other places like everyone is in The Grove," Lantz said. "There are very few tents in The Grove that wouldn't offer you something to eat or drink."
The Grove has been a welcoming place to The Fosters as well as many other families, and they've helped many more in the process. They hold a couple of different fundraisers towards various local causes at the tent each season, including one at the Egg Bowl last year that raised over $15,000.
"There is nothing like this," Lantz said. "People can try to emulate it, but it is not the same."
Brian Scott Rippee, OleMissSports.com