The popularity of the wing has taken over the world.
When one sets a goal to be the best at something, in many cases, they have to form somewhat of a relationship with what they are trying to conquer or control. In Grillax Nation, chicken wings are a staple among pit masters, and to become the wing champion, one must become one with the wing. To do that, you have to know the background of the popular chicken wing.
Do you know how the wing gained such popularity? The rise of the chicken wing and its correlation to American football all had to do with timing. Cooking the whole bird was trendy in the 1960s and 1970s, but in the 1980s U.S. consumers started preferring boneless-skinless breast meat, and wings became an inexpensive byproduct for chicken producers.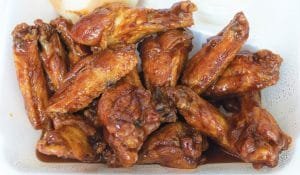 Restaurants and bars realized they could charge low prices for the relatively inexpensive  protein, and due to the spicy/salty nature of the sauce, they discovered that beer sales would go through the roof when customers ate wings.
At the same time, sports bars with multiple TVs and satellite dishes were becoming more common in the country, thanks to rapidly developing technology; and the most popular sporting event to watch with friends in bars is football — college and professional.
Wings were easily shareable and affordable, a great "group food" to eat with other people, and are the perfect pairing with a pitcher of beer. And so the pigskin-chicken wing bond was born, creating a half-decade frenzy of wing fanatics.
The National Chicken Council reported in 2012, Super Bowl weekend is unquestionably the biggest time of the year for wings.  More than 1.25 billion wing portions will be consumed during Super Bowl weekend in 2012, totaling more than 100 million pounds of wings.  If the wings were laid end-to-end they would circle the circumference of the Earth – more than twice – a distance that would reach approximately a quarter of the way to the moon, the Council reported.
Here's another factoid for ya. If 1.25 billion wing segments were laid end to end, they would stretch from CenturyLink Field in Seattle, Washington to MetLife Stadium in East Rutherford, New Jersey (home of Super Bowl XLVIII) … 30 times. That is enough wings to put 572 wings on every seat in all 32 NFL stadiums.

Wing Popularity: How do Americans like 'em?
More than half (51 percent) of U.S. adults who eat chicken wings said they typically like to eat their wings with ranch dressing, according to a NCC poll conducted online in January 2014.  Ranch is once again the top side or sauce, typically eaten with wings, but down six percent from 57 percent one year ago.  Only about one-third (32 percent) prefer blue cheese dressing.
Interestingly, 66 percent of women aged 18-34 choose ranch dressing.
Among those U.S. adults who eat chicken wings, nearly two-thirds (65 percent) say Buffalo wings are among their favorite flavors/styles, with 39 percent saying they prefer mild, 36 percent hot and eight percent "atomic."
Women (62 percent) are just as likely as men (67 percent) to choose Buffalo style as their favorite.  More than four in 10 (44 percent) women aged 18-34 like their Buffalo wings hot, significantly more than any other female age category.
Northeastern wing eaters are significantly more likely (74 percent) to prefer Buffalo style wings than those in the Midwest (63 percent), South (61 percent) or West (62 percent).  Folks in the Midwest are significantly more likely (57 percent) to choose barbecue wings as among their favorites.
After Buffalo (65 percent) and barbeque (49 percent), another favorite flavor/style of chicken wings is breaded/fried, at 35 percent.  Teriyaki (33 percent), sweet and sour (29 percent) and plain (28 percent) round out the poll.
Cool Ranch Dry Rub
1 packet of dry Ranch seasoning
1 tbsp minced garlic
1 tsp black pepper
1 tsp lemon pepper
Add grilled and cooled wings to a bag containing the rub, shake to coat.
Spicy Thai sauce
1/3 cup honey
5 tbs soy sauce
2 tsp chili oil
1 tsp freshly grated ginger
juice from 1 lime
1 tbs Sriracha sauce
2 tbs minced garlic
1/2 tbs ground coriander, or a few tbs of fresh, chopped cilantro
dash of chili flakes to taste
Let wings marinate for 2-24 hours in sauce. When added to grill, baste several time while cooking so wings stay glossy. Serve with minced green onions and crushed peanuts as garnish.
(Senior Culinary Writer Lauren Cook contributed to this story.)